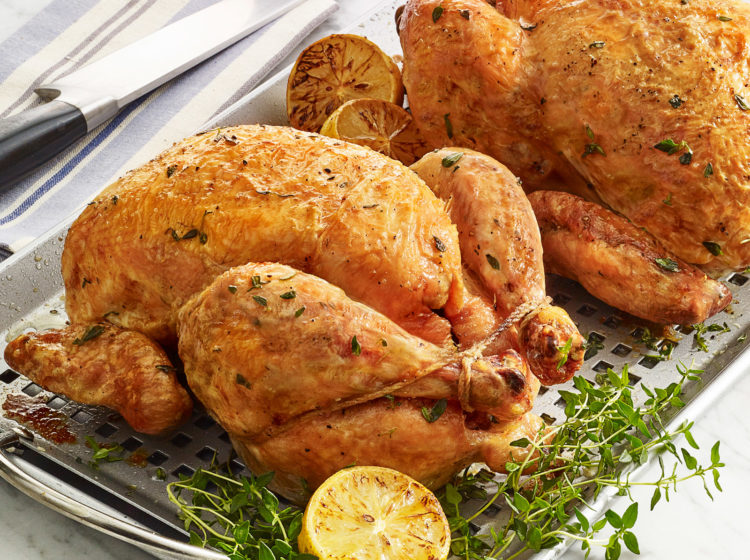 Whole Roasted Chicken
Serves: 6
Prep Time: inutes
Cook Time: inutes
Total Time: inutes
You and your family will swoon over our Whole Roasted Bell & Evans Chicken with Lemon & Thyme.  The secret is incorporating aromatics inside the bird and creamy butter under the skin.  While you're at it, make two!  One for dinner tonight and more for tomorrow's lunch…
Ingredients
1 4-5 pound Bell & Evans Whole Chicken, giblets removed
4 T Unsalted butter, softened
4 T Extra-virgin olive oil
Salt & pepper, to taste
1 Lemon, cut in half, plus an additional lemon for serving
1 Bunch fresh thyme, plus 1T chopped & reserved for serving
Optional Brine
½ Cup granulated sugar
½ Cup kosher salt
3 Qt. Cold water
Preparation
Brine
Combine sugar, salt and cold water. Mix ingredients to dissolve.
Add Chicken to brine. Cover and refrigerate 6-8 hours.
Roasting
Preheat oven to 425°F
Pat dry chicken very well with paper towels.
Gently rub softened butter under the skin.
Rub exterior of chicken with olive oil and season with salt and pepper.
Stuff the cavity of the chicken with the bunch of thyme and lemon halves.
Tie the legs together with kitchen string and tuck the wing tips under the body of the chicken.
Place wire rack in a roasting pan and position the whole chicken on top of the rack. Roast, uncovered, for approximately 1 hour until skin in golden brown and chicken is thoroughly cooked to an internal temperature of 170°F as measured by a meat thermometer. Save pan juices.
Allow to rest for 15 minutes before carving.
To Serve
Top chicken with chopped thyme & freshly squeezed lemon juice.
Once carved, drizzle pan juices over chicken.
For a special presentation, serve with a grilled lemon half and sprigs of fresh thyme.
Featured Product
You may also like