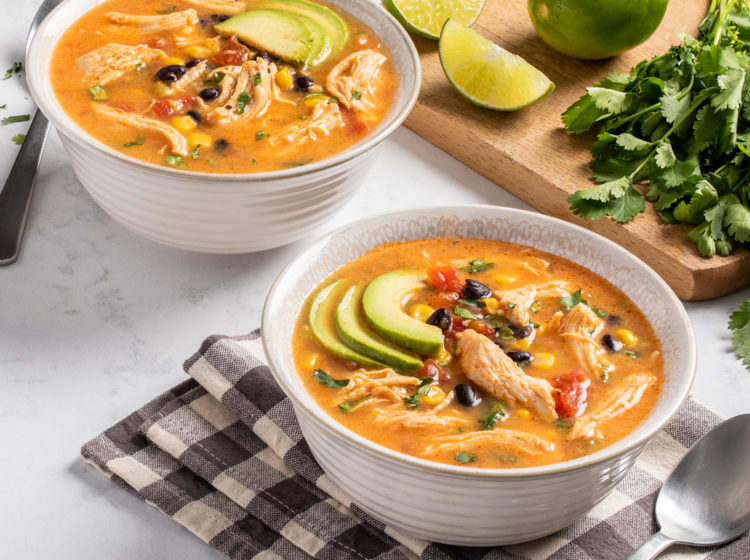 Slow Cooker Chicken Enchilada Soup
Serves: 8
Prep Time: inutes
Cook Time: inutes
Total Time: inutes
The prep for this zesty Mexican-inspired dish comes together in five minutes flat, and then it simply needs a few hours to simmer away in the slow cooker. The combination of tender chicken breast, corn, beans and green chilies is elevated with peppery enchilada sauce, to create a cozy homestyle soup that's delicious for dinner, and makes great leftovers, too!
Ingredients
2 pkgs Bell & Evans Boneless, Skinless Chicken Breast
32 oz Chicken broth, low sodium
1½ Cups Enchilada sauce
1 Onion, diced
3 cloves Garlic, minced
14 oz Canned diced tomatoes
15 oz Canned black beans, drained and rinsed
2 cups Corn, frozen
7 oz Diced green chiles
1 tsp Ground cumin
1 tsp Salt
8 oz Cheddar cheese, shredded
Preparation
Add all ingredients, except for cheddar cheese, to a slow cooker.
Cook on LOW heat for 6-8 hours, or HIGH heat 4-5 hours.
Once tender enough to shred, remove the chicken from the crockpot. Allow to cool slightly, then shred using two forks.
Return shredded chicken to soup. Add cheese, stir, and allow the cheese to melt for about 5 minutes. Serve hot.
Featured Product
You may also like