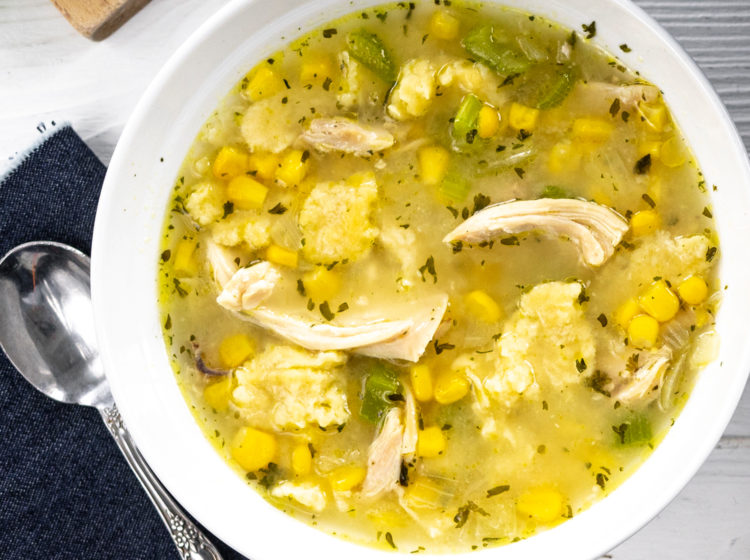 Pennsylvania Dutch Chicken Corn Rivel Soup
Serves: 10
Prep Time: inutes
Cook Time: inutes
Total Time: inutes
Sophie Light, previous Head Cook at Esther's Diner, and owner of Farmer's Wife Diner in Ono, Pennsylvania shares her infamous Chicken Corn Rivel Soup Recipe with us.  There's nothing better than homemade Chicken Corn Rivel Soup, made with Bell & Evans whole Chicken Legs… created at a time when the best chefs in the world developed recipes without using measuring cups.
Ingredients
Chicken Broth
6 Bell & Evans whole Chicken Legs
1 Cup Chopped onion
1 Cup Chopped celery
¼ Cup Chicken Base. (one popular brand is Better Than Bouillon)
4 Cups Frozen corn
1 tsp Celery salt
1 tsp Onion salt
1 T Parsley flakes
Salt and Pepper to taste
Rivels
3 Large Eggs
2 Cups Flour
Gluten Free Rivels
3 Large Eggs
2 Cups King Arthur Measure for Measure Gluten Free flour
1-2 TB Cold water
Preparation
Fill a 10 Qt pot with 5-6 quarts of water. Cook the 6 chicken legs until tender. Remove from broth. Strain the broth, then add the chopped celery, onion, frozen corn and chicken base. Cook 5 minutes.
Meanwhile, make the rivels. Beat the eggs, then gradually add the flour, working the flour into the eggs with your hands, making small chunks of dough.
Slowly add the little chunks of dough to the broth, stirring frequently.
Add cooked and shredded chicken, celery salt, onion salt and Parsley into soup. Cook the small balls of dough for about 5 minutes or until they start to float.
Serve with chunky, warm bread.
Featured Product
You may also like