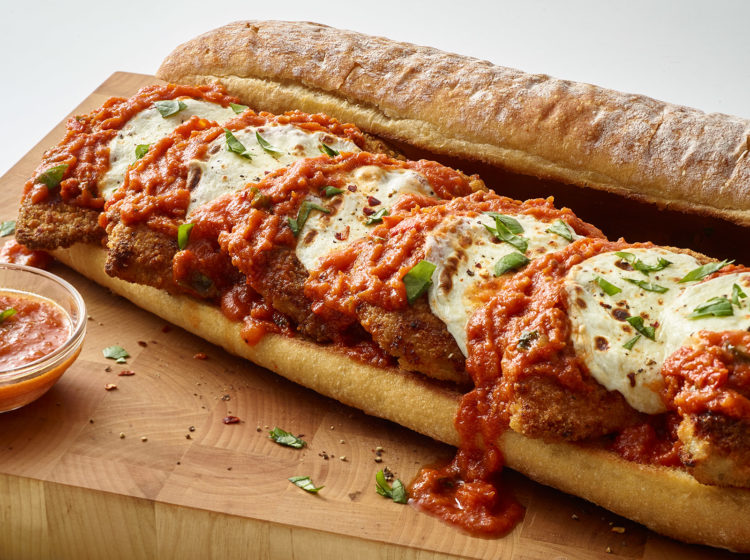 Party Sized Chicken Parm Sandwich
Serves: 6
Prep Time: inutes
Cook Time: inutes
Total Time: inutes
Who doesn't love a warm, crispy Chicken Parmesan sandwich with lots of cheese melting on top?  Then you'll love this party size version even better!  You can serve it for a party… for #FunFridayFamilyNight…. no matter what the occasion, this giant sandwich will make it a party!
Ingredients
1 Loaf ciabatta bread, split in half lengthwise
2 Cloves of garlic, finely minced
½ Stick unsalted butter, melted
Salt & pepper, to taste
1 Jar Marinara sauce
6oz of Fresh Mozzarella, thinly sliced
Red pepper flakes, for garnish
Fresh basil, roughly chopped for garnish
Preparation
Preheat oven to 375°F. Place frozen breaded chicken breasts on a baking sheet and bake for 25-30 minutes until golden brown or thoroughly cooked to an internal of 170°F as measured by a meat thermometer.
Top chicken with marinara and fresh cheese. Continue baking for 5 minutes or until cheese has melted. Remove from oven. Set aside.
Combine melted butter & minced garlic. Brush onto cut side of ciabatta bread.
Place ciabatta cut side up on a baking sheet and place under the broiler until brown and crisp.
Transfer to a large cutting board.
Assemble the sandwich by layering the chicken on the bottom half of ciabatta loaf shingling the breast so they fit in a single layer covering the bread.
Garnish with red pepper flakes and basil.
Place top half of ciabatta loaf and slice into 6 portions.
Serve with extra marinara for dipping.
Featured Product
You may also like