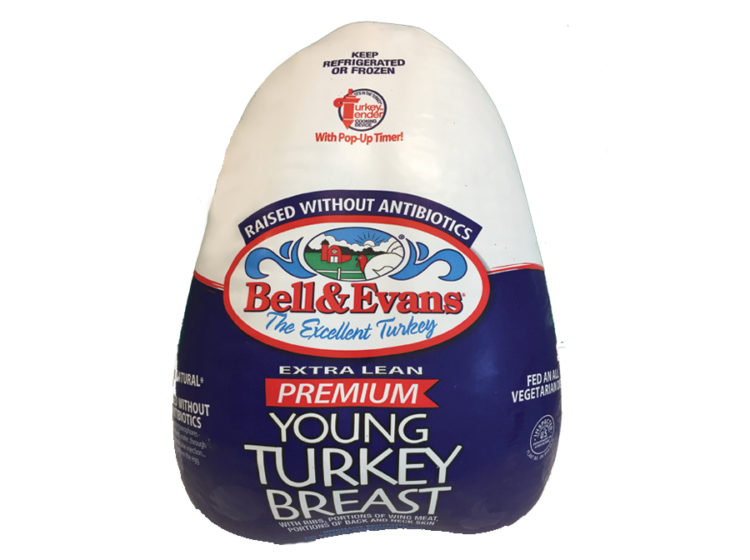 Turkey Breast
Raised without antibiotics, our turkey breasts* are truly one of a kind.  They boast 55% less fat and 25% fewer calories.  Because they have less fat, they will cook differently.  Check our Cooking Instructions below for helpful hints. They are available in 4-8 lb., 8-10 lb., and 10-12 lb. sizes.  Not all retailers carry all sizes. Available seasonally.
* Our Turkey Breast includes ribs, portions of wing meat, portions of back and neck skin.
No Hormones
This product is free from artificial growth hormones.

No Junk
This product is made with no fillers, no preservatives and no artificial flavors—in other words, no junk.

Free Range
POP-UP TIMER:  These timers are programmed to activate when the turkey breast reaches the proper internal temperature of 165°.  These cooking devices are extremely accurate and can be relied upon.  IF IT HAS NOT ACTIVATED within ½ hour from scheduled roasting time, remove turkey breast from oven and check for doneness.
IMPORTANT: EACH TIME AN OVEN DOOR IS OPENED, VALUABLE ROASTING TIME IS LOST.
COOKING THERMOMETERS
We highly recommend the use of both oven thermometers and meat thermometers.  Insert the meat thermometer into the breast, NOT TOUCHING BONE.  A reading of 165° indicates the breast is done.
CAUTION:  Due to possible variance in oven temperatures, we strongly recommend that all ovens be checked for accuracy at least every 6 months.  The average household oven may vary as high as 100 degrees.
CONDITIONS WHICH WILL VARY ROASTING TIMES
Type of oven used, temperature of breast when placed in your oven, height and thickness of your roasting pan, oven thermostat accuracy, frequent opening of oven door….etc., any one or a combination of these conditions may alter your cooking time as much as 30 minutes.
ESTIMATED ROASTING TIMES – ROASTING AT 325°F
WEIGHT
ROASTING TIME
8 – 12 lbs
2 – 3 hours
12 – 16 lbs
3 – 4 hours
16 – 20 lbs
4 – 5 hours
20 – 24 lbs
5 – 6 hours