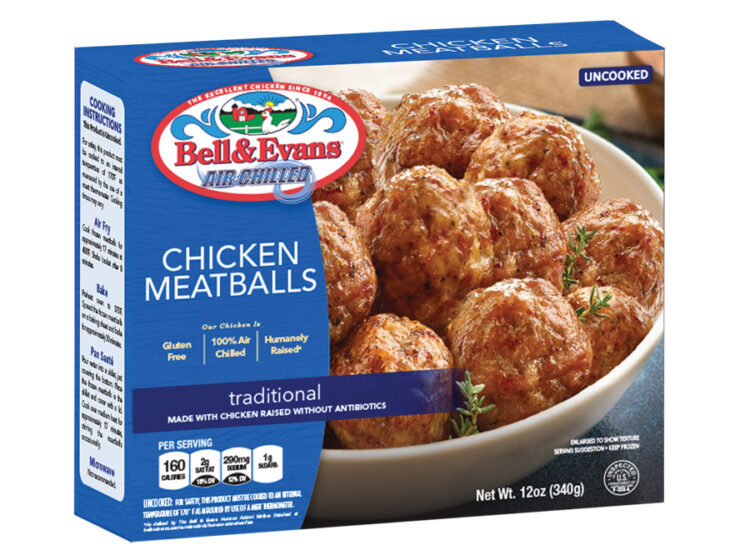 Traditional Chicken Meatballs
We love the flexibility of this meatball and so will you! These premium quality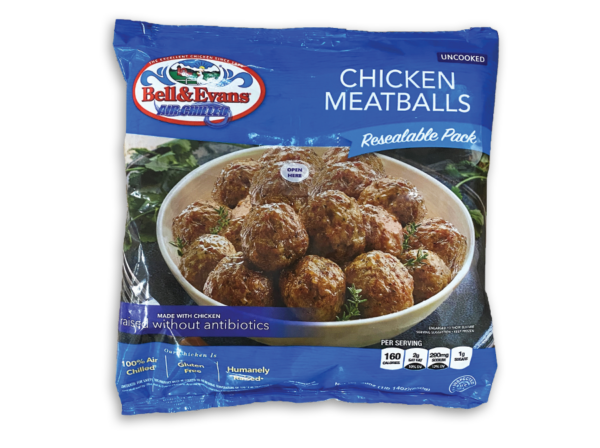 meatballs are made with a subtle blend of herbs and spices, making it a great choice for any meatball dish.  Now available in a new 30 oz. resealable bag!
Watch our video to see 3 of our favorite recipes!
No Hormones
This product is free from artificial growth hormones.

No Junk
This product is made with no fillers, no preservatives and no artificial flavors—in other words, no junk.

Time Saver
Chicken Leg Meat, Chicken Skin, Water, Organic Maltodextrin, Organic Cane Sugar, Organic Rice Flour, Organic Onion Powder, Organic Garlic Powder, Organic Yeast Extract (Organic Bakers Yeast, Salt), Sea Salt, Organic Rice Hull Powder, Organic Rosemary Ex-tract, Organic Parsley, Organic Thyme, Organic Cayenne Pepper, Organic Black Pepper, Organic Marjoram, Organic Sage, Organic Celery Seed, Organic Rosemary, Organic White Pepper.
Bake: Preheat oven to 375°F. Spread frozen meatballs on a baking sheet and bake for approximately 30 minutes.
Stovetop: Pour water into a skillet, just covering the bottom. Place frozen meatballs in the skillet and cover with a lid. Cook over medium heat for approximately 17 minutes, stirring the meatballs occasionally.
Air Fry: Cook frozen meatballs for approximately 17 minutes at 400°F, shaking the air fryer basket after 8 minutes.
Slow Cooker:  If using a slow cooker, please follow the instructions noted above under "Bake" PRIOR to putting the meatballs in the slow cooker.  Our meatballs are raw and will not keep their round shape unless they are baked prior to using in a slow cooker.
Featured Recipe
You may also like