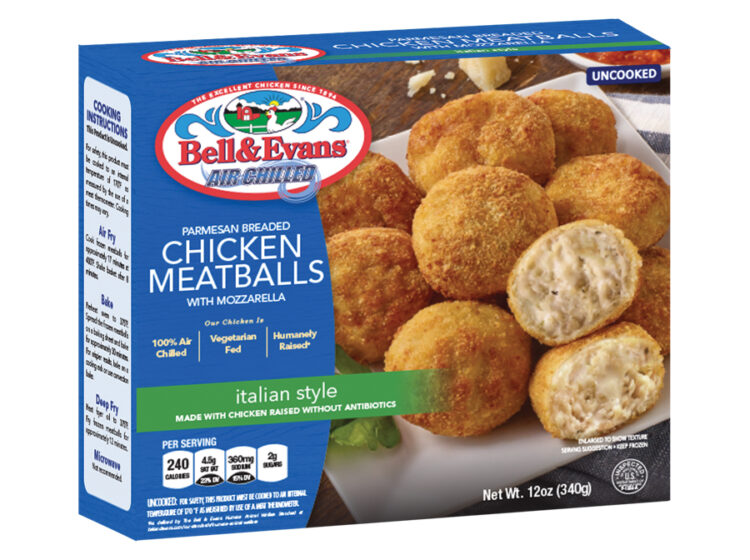 Parmesan Breaded Chicken Meatballs
This item will soon become a staple in your house. Who can resist mozzarella cheese and Italian herbs and garlic, blended with superior quality Bell & Evans ground chicken and topped with a light Parmesan breading? Once you try them, you'll be hooked! Serve as an appetizer, sandwich or pasta enhancement.
No Hormones
This product is free from artificial growth hormones.

No Junk
This product is made with no fillers, no preservatives and no artificial flavors—in other words, no junk.

Time Saver
Chicken Leg Meat, Mozzarella Cheese (Pasteurized Part Skim Milk, Cheese Culture, Salt, Enzymes), Chicken Skin, Water, Garlic Puree, Sea Salt, Organic Black Pepper, Organic Parsley, Organic Basil, Organic Soybean Oil. Breaded with Unbleached Wheat Flour, Water, Parmesan Cheese (Pasteurized Part Skim Milk, Cheese Culture, Salt, Enzymes), Nonfat Dry Milk, Dried Whole Eggs, Sugar, Yeast, Salt, Black Pepper.
Flash fried in Organic Expeller Pressed Soybean Oil to set breading.
ALLERGEN INFORMATION: Contains Wheat, Milk and Eggs
Bake: Preheat oven to 375°F. Spread frozen meatballs on a baking sheet and bake for approximately 30 minutes. For crispier results, bake on a cooling rack or use convection bake.
Deep Fry: Heat fryer oil to 375°F. Fry frozen meatballs for approximately 12 minutes.
Air Fry: Cook frozen meatballs for approximately 17 minutes at 400°F, shaking the air fryer basket after 8 minutes.
Slow Cooker:  If using a slow cooker, please follow the instructions noted above under "Bake" PRIOR to putting the meatballs in the slow cooker.  Our meatballs are raw and will not keep their round shape unless they are baked prior to using in a slow cooker.
Featured Recipe
You may also like