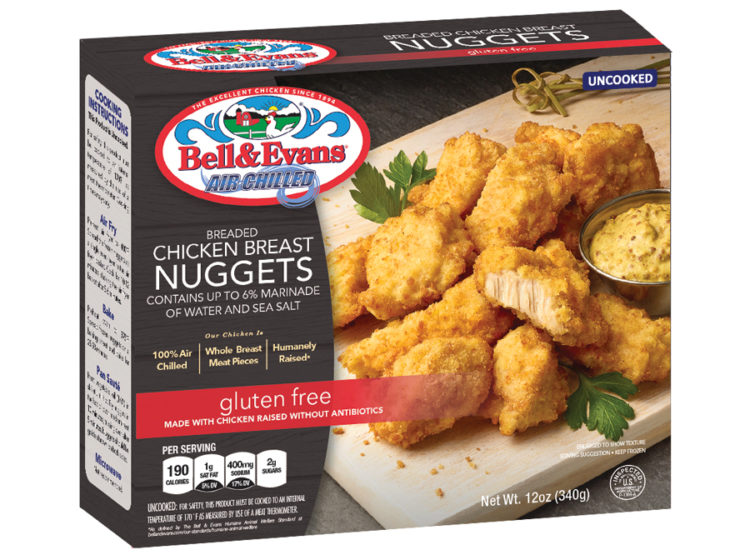 Gluten Free Breaded Chicken Nuggets
100% whole chicken breast meat pieces are lightly breaded with our gluten free breading for a great taste. Made with no fillers. No preservatives. All delicious. You won't believe they're gluten free!
Wondering how we make our delicious Chicken Nuggets?  Wonder no more– Watch our "How we Make it – Chicken Nuggets" Video: 
No Hormones
This product is free from artificial growth hormones.

No Junk
This product is made with no fillers, no preservatives and no artificial flavors—in other words, no junk.

Time Saver
"The gluten-free chicken nuggets are amazing!!! I love that they are not 'pre-cooked' minced GF chicken nuggets like most I've seen and tried. I am on a strict gluten-free diet and have tried many, MANY different gluten-free chicken nuggets and these by Bell & Evans are BY FAR THE BEST. Even if I were not on a gluten-free diet, I would still purchase these. They are THAT good. My husband purchased these for me at Raisin Rack in Westerville, OH, and I was NOT disappointed. Thanks so much for putting a quality gluten-free chicken product out there that ACTUALLY TASTES GOOD! :)"
Chicken breast meat, marinated in water and sea salt.  Breaded with rice flour, water, yellow corn flour, sea salt, xanthan gum, dried whole eggs, yeast, cane sugar, black pepper, onion powder, garlic powder.
Flash fried in organic expeller pressed soybean oil to set breading.
ALLERGEN INFORMATION: Contains egg.
Our Breaded Nuggets are uncooked.
For safety, this product must be cooked to an internal temperature of 170°F as measured by the use of a meat thermometer.  Cooking times may vary.
Bake:  Preheat oven to 375°F.  Spread frozen nuggets on a baking sheet and bake for 25-30 minutes.
Pan Fry: Heat vegetable oil (1/8″) in skillet until hot. Fry nuggets in the hot oil over medium heat 10-12 minutes, turning over after 5-6 minutes.  Nuggets should be golden brown on both sides.
Air Fryer: Cook frozen nuggets for approximately 12 minutes at 400°F, shaking the basket or rotating racks (if applicable) after 6 minutes.