Do you know what "organic" chicken means?
I find that most people –
Buy organic chicken and think they know the differences (and are likely wrong), OR
Buy organic chicken and hope it's better for them without knowing the differences, OR
Don't buy organic chicken because they think "organic" is all marketing hype.
When the organic movement first began 20+ years ago, I didn't pay much attention.  I was too busy becoming the first U.S. chicken producer to remove antibiotics and establishing the first "all-natural chicken" label.  These were goals of mine since I was a kid and big moves within the chicken industry.  That was in 1998.  At that time, I was ridiculed by peers and no one believed I'd be successful and make money raising chickens my way.
Fast forward 10 years to 2008, and Bell & Evans was ready to launch its certified-organic chicken.  What I realized about "organic" when I slowed down and really explored it is that the ideals align very closely with mine.  Our intent has always been to raise chickens the right way and produce the most natural, best tasting chicken on the market.
It's no wonder that Bell & Evans is really good at organic chicken given we had the right intentions all along.  Recently, The Cornucopia Institute (a national, nonprofit watchdog group of the organic industry) released a report about "industrial" organic, and it's quite telling.  Bell & Evans is the only national organic producer on its scorecard to earn an "Excellent" 4-star rating while other familiar organic brands are listed as 1 star.  Our organic program is successful because of our 100% rule.  We were never a commodity business, so we produce 100% of our chicken with premium standards.  We offer Raised Without Antibiotics chicken (about 55% of our business) and, one step higher, organic chicken (the remaining 45% of our business).  That's it.  The programs are nearly identical, which allows us to easily adjust our organic output because we have all our necessary organic standards in place throughout our full process.  Now think about the commodity producers with different standards for different brands they own.  How committed to organic can the big guys really be when their organic business is less than 5% of their overall business?  The Cornucopia Institute created an infographic, Who Owns Organic Poultry?, to illustrate this point.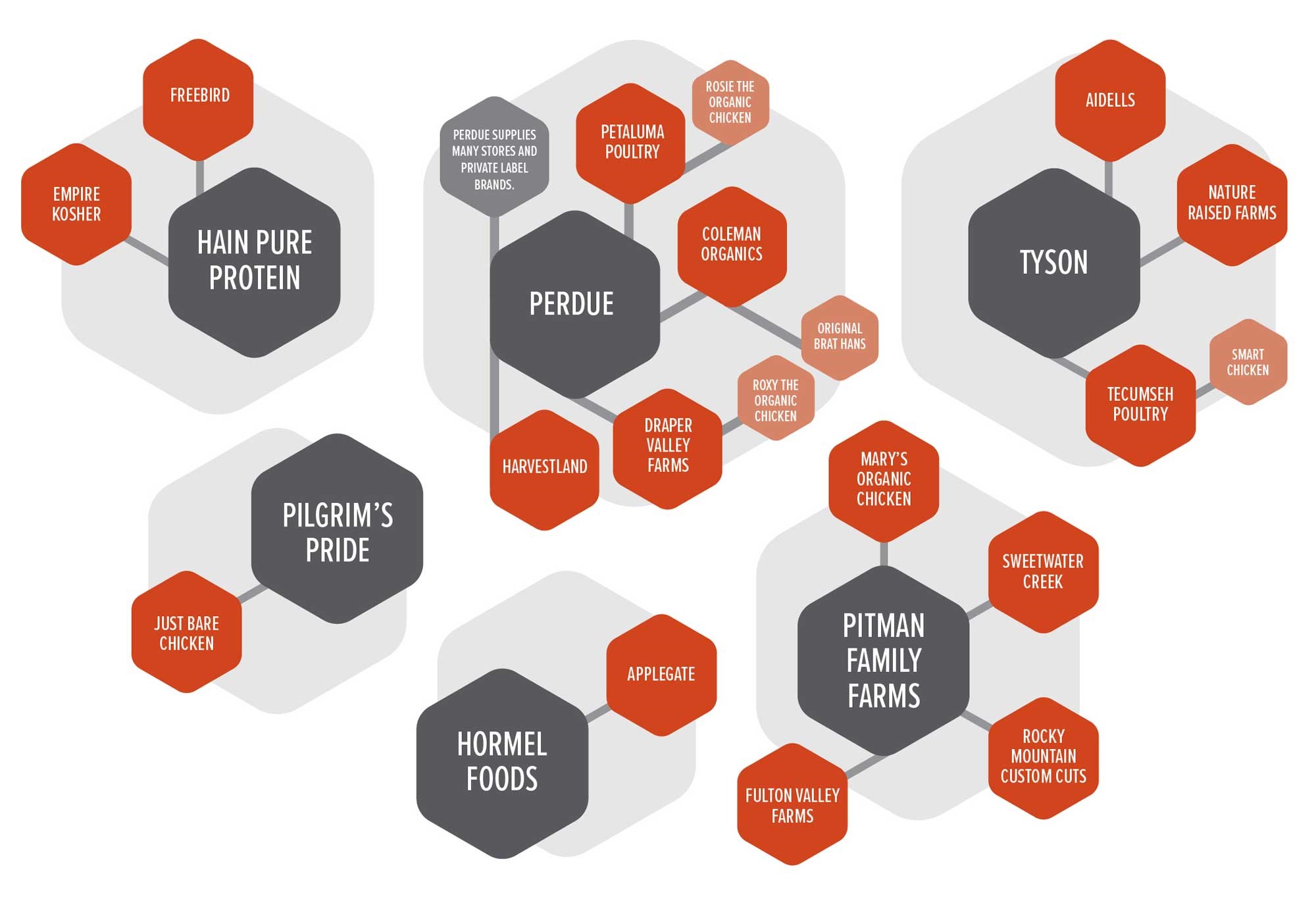 Image Source: The Cornucopia Institute (2020)
Unfortunately, when commodity producers wanted an "all-natural chicken" label, they cut corners to get it and the label got watered down.  Today, nearly all chicken you purchase is labeled all natural.  We see organic chicken heading down the same path, so it's important to understand what organic chicken means – or should mean.
Do you think an organic grain starts from an organic seed?  What about an organic chicken – does it come from an organic egg?  You would think so, but the answer to both of these questions is no.  Shocked?  We agree.  Organic standards should equal or exceed the perceived value by customers.  Bell & Evans has always and will continue to challenge the industry to do better, and these are two examples of initiatives we're working on.
To better understand Bell & Evans Organic Chicken Standards vs. National Organic Standards for chicken (what other organic producers are required to follow), here is a checklist.  No matter what organic chicken you purchase, there is some added value.  Bell & Evans over delivers because we believe it's the right thing to do.  Use the report card section to grade the organic chicken you purchase.