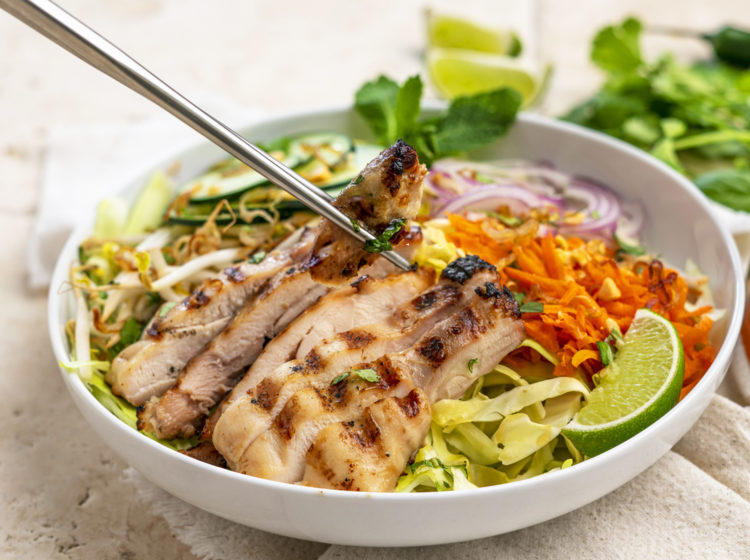 Vietnamese Chicken and Cabbage Salad
Serves: 4
Prep Time: inutes
Cook Time: inutes
Total Time: inutes
This satisfying salad, featuring Bell & Evans Boneless Skinless Chicken Thighs, is healthy and packed with sweet, tangy, spicy flavors and loads of fresh and colorful crunch. You will see why it is one of our favorites to throw together.
Ingredients
1/4 Cup plus 2 tsp Fish sauce, divided
4 Cloves garlic, minced, divided
3 TB Honey, divided
1/4 Cup, plus 2 TB Sesame oil, divided
1/4 Cup Lime juice
1/4 Cup Serrano chilis, or to taste, thinly sliced
3 TB Shallots, thinly sliced
8 - 10 Cups green, savoy or napa cabbage, shredded
4 Carrots, peeled and grated
1/2 Red onion, thinly sliced
1 Cucumber, thinly sliced
1 Cup Fresh herbs, combination of cilantro, mint and basil, chopped
1 Cup Bean sprouts
1 Cup Unsalted peanuts, toasted and chopped
Lime wedges, for serving
Preparation
For marinade: Combine 2 tsp fish sauce, 2 cloves minced garlic, 1 TB honey and 1 TB sesame oil in a shallow glass dish. Add chicken and toss to coat. Cover and refrigerate for at least 1 hour, or up to eight hours.
Make dressing by combining remaining fish sauce, garlic, honey, 1 TB sesame oil, lime juice and chilis in a small jar. Shake to combine and place in the refrigerator until ready to serve.
Heat remaining oil in a small skillet over medium high heat and fry shallots until golden and crispy. Drain on paper towels and set aside.
Meanwhile, prep vegetables for salad then place cabbage, carrot, cucumber, onion, herbs, bean sprouts in a large bowl.
Featured Product
You may also like