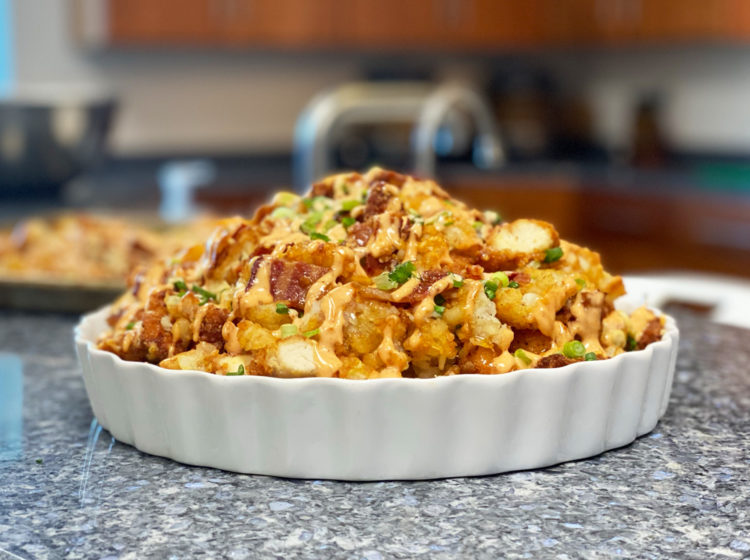 The Big Mess
Serves: 6
Prep Time: inutes
Cook Time: inutes
Total Time: inutes
Toss delicious, flavorful Bell & Evans Organic Chicken Tenders with cheddar cheese, scallions and bacon.  Then top with Chef Paul Greenblatt's homemade Comeback Sauce and Mike's Hot Honey for a meal your whole family can enjoy!  The messier the better.
Ingredients
6-8 ea Slices of Bacon
12 oz Tater Tots (pick your favorite kind!)
3/4 Bunch Scallions (sliced into ¼" rounds)
½ C Shredded cheddar (fresh shredded is best)
½ C Shredded mozzarella (fresh shredded is best)
Sea Salt to taste
Comeback Sauce to taste
The Sauce
¾ C Mayonnaise
3 TB Ketchup
1 ½ TB Mike's Hot Honey (or other chili infused honey)
1 ½ TB Hot sauce
1 tsp Worcestershire sauce
¾ tsp Fresh lemon juice
1 tsp Smoked paprika (hot smoked can also be used to spice it up more)
½ tsp Dry mustard
½ tsp Sea Salt
½ tsp Freshly ground black Pepper
Preparation
Pre-heat your oven to cook your tater tots and chicken tenders according to the directions on the package. The bacon can be cooked at this time using either the stove top or baked in the oven. Cooking the bacon to your desired doneness, remove and place on a paper towel. Once cool, chop into ½ inch pieces and reserve.
Once the tater tots and chicken are cooked, season lightly with sea salt and when the tenders are cool enough to handle, cut them cross ways into 1/2" to 3/4" pieces. Using a mixing bowl, combine the sliced tenders, tots, sliced scallion, and crumbled bacon.
When all items are incorporated, mix in 3/4 of the cheddar and mozzarella, reserving a small amount to top the mixture. Place the blend into a pie dish or oven safe casserole and then top with remaining cheeses and bake at 350° for 10-15 minutes or until hot and the cheese has melted.
After removed from the oven, drizzle liberally the Comeback Sauce as pictured below. Serve with remaining comeback sauce in a side dish with spoon.
Comeback Sauce
Mix all ingredients using a whisk until incorporated. Can be made several days in advance if covered and stored in the refrigerator.