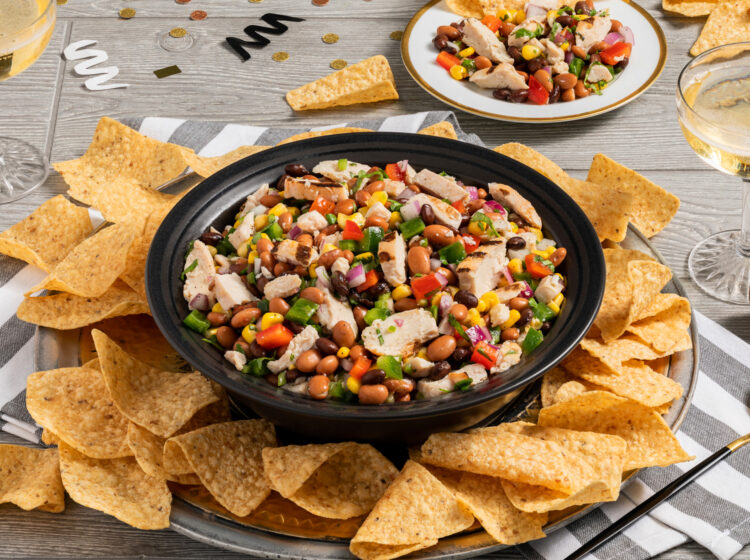 Texas Chicken Caviar
Serves: 8
Prep Time: inutes
Cook Time: inutes
Total Time: inutes
Our Texas Chicken Caviar lands somewhere between bean salad and chunky salsa, and its blend of ingredients makes for bold textures and big flavors. Beans, corn, onion, peppers, and tender pieces of Bell & Evans Fully Cooked Grilled Diced Chicken Breast marinate together in a simple vinaigrette for a slightly pickled taste that pairs perfectly with crunchy tortilla chips!
Ingredients
1/4 cup Olive oil
2 TB Red wine vinegar
2 (15-oz) cans Pinto beans, rinsed and drained
1 (15-oz) can Black beans, rinsed and drained
2 cups Corn kernels, fresh or frozen
1 small Red onion, finely chopped
1 medium Red bell pepper, seeded and chopped
1 medium Green bell pepper, seeded and chopped
1 small Jalapeno, seeded and minced
1/4 cup Chopped fresh cilantro
Salt & black pepper, to taste
Tortilla chips, for serving
Preparation
Whisk olive oil and vinegar together in a large bowl until combined. Add pinto beans, chicken, black beans, corn, red onion, bell peppers, jalapeno and cilantro, and toss to coat. Season with salt and pepper, to taste.
Cover with plastic wrap and refrigerate for at least 2 hours, until flavors develop. Serve with chips, and enjoy.