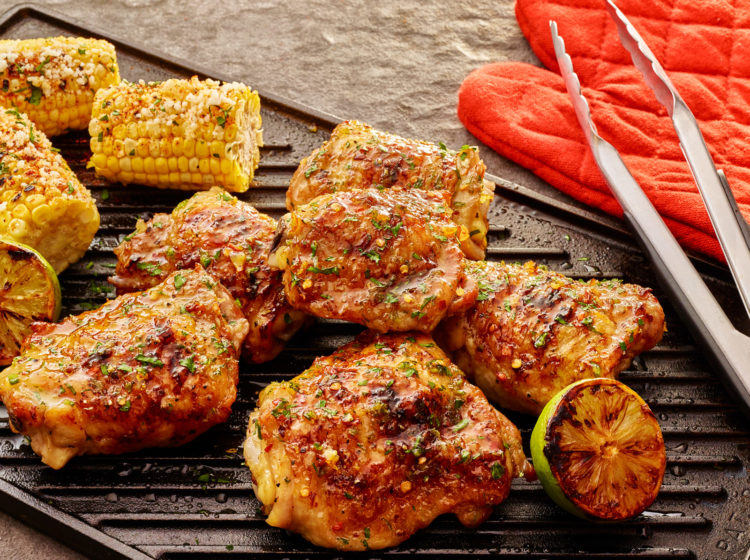 Tequila Glazed Chicken Thighs
Serves: 6
Prep Time: inutes
Cook Time: inutes
Total Time: inutes
Looking for something new to try at your next cookout? Then you'll want to give this sweet & spicy recipe a try. These margarita inspired chicken thighs are sure to please… Lots of citrus and lots of tequila, a winner for any dinner!
Ingredients
4 Cloves Garlic, finely minced
1 tsp Salt
½ tsp Red Pepper Flakes
Glaze
½ Cup Orange Juice
½ Cup Pineapple Juice
½ Cup Lime Juice
¼ Cup Tequila
5 T Demerara Sugar
5 T Honey
4 T Butter (cold)
1-2 Jalapenos, cored seeded and finely diced
Salt & Pepper, to taste
To Serve
Corn on the Cob
Butter
Chili Powder & Salt, to taste
Crumbled Cotija Cheese
Chopped Fresh Parsley
Lime Wedges
Preparation
Combine chicken with garlic, salt and red pepper flakes. Marinate 6 hours or overnight.
Prepare Glaze: In a medium sized sauce pan combine orange juice, pineapple juice, lime juice, tequila, demerara sugar and honey. Bring to a boil stirring until sugar dissolves. Reduce heat to medium –low and simmer until mixture reduces and thickens slightly, approximately 15 minutes.
Remove from heat. Add cold butter and stir until melted and well blended. Add jalapenos and season with salt and pepper, to taste. Reserve ¼ cup of glaze for serving.
Preheat grill to medium -high heat using burners on both sides of your grill. After preheating turn the left burners off and leave the right burners on.
Place chicken on the right side of the grill (direct heat). Cover and grill 5-10 minutes on each side until golden brown. Move chicken to the left side of the grill (indirect heat). Cover and grill an additional 45 minutes until thoroughly cooked to an internal temperature 170°F as measured by a meat thermometer.
Stay close to the grill, flip and baste chicken with glaze every 8-10 minutes.
When chicken is done transfer to a platter, spoon on reserved glaze and serve with lime wedges.
To Serve
Grilled corn on the cob is a great compliment to this chicken.
Simply brush husked corn with melted butter and lightly grilled until tender and golden brown.
Top corn with a dusting of chili powder, pinch of salt, crumbled cotija cheese & fresh chopped parsley.
Featured Product
You may also like