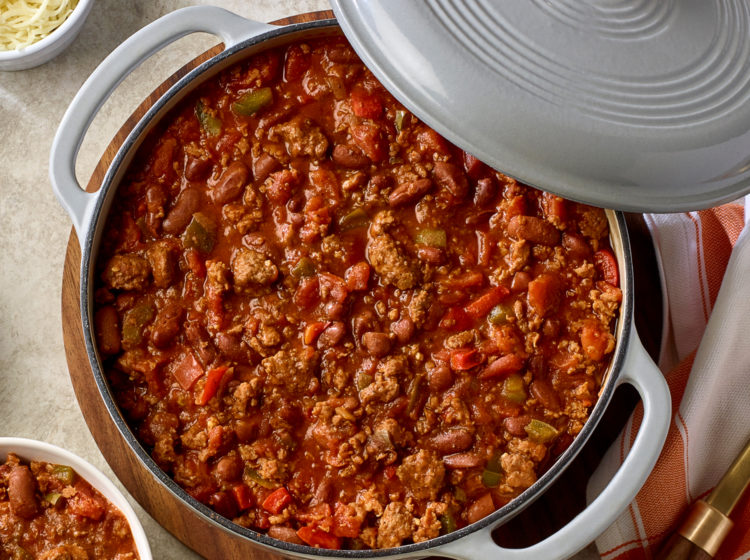 Taco Seasoned Chicken Chili with Beans
Serves: 6
Prep Time: inutes
Cook Time: inutes
Total Time: inutes
A bowl of chili is always hearty and warming. Using a multi-cooker or slow cooker makes it a snap to serve up this classic comfort-food recipe on even your busiest weeknight. And, our Taco Seasoned Ground Chicken gives this version both zingy spice and a depth of flavor chili lovers will adore.
Ingredients
2 T olive oil
1 Large onion, chopped
1 Green bell pepper, diced
1 Red bell pepper, diced
1 Small Jalapeno, seeded and finely chopped
2 Large garlic cloves, finely chopped
1 T Chili powder
1 tsp Cumin
1 tsp Minced fresh oregano
1 tsp Ground coriander
1 28-oz Can Diced tomatoes
2 T Tomato paste
1 15-oz Can Red kidney beans with their juice
Salt & Pepper to taste
OPTIONAL: Diced avocado, chopped cilantro, diced red onion, sour cream, and/or shredded Monterey Jack or Cheddar, for serving
Preparation
Select the Sauté setting on the multi-cooker and heat the oil. Add the ground chicken and cook, using a wooden spoon to break the meat into pieces as it browns, about 8 minutes. Add the onion, bell peppers, jalapeno, garlic, chili powder, cumin, oregano, and coriander and cook, stirring occasionally, until the onion is tender and translucent, about 5 more minutes. (If using a slow cooker, simply sauté the ingredients in a large skillet on the stovetop, then transfer to your slow cooker and proceed as below).
Stir in the tomatoes and tomato paste and season with salt and pepper to taste.
If using a multi-cooker, switch to the Slow Cooker setting. Cover and cook on low about 5.5 hours.
After about 5.5 hours, stir in beans with their juice and cook 30 more minutes, or until beans are heated through and chili has thickened.
Serve topped with avocado, cilantro, diced onions, sour cream, and/or cheese, if desired.
Featured Product
You may also like