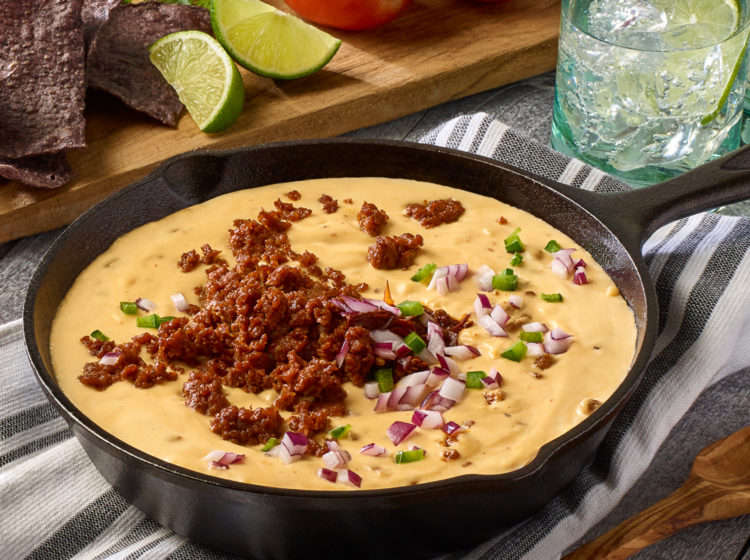 Taco-Seasoned Chicken & 3-Cheese Queso Dip
Serves: 12
Prep Time: inutes
Cook Time: inutes
Total Time: inutes
We've kicked queso dip up a notch with three different kinds of cheese, spicy chipotles, and our zesty Taco Seasoned Ground Chicken. Cream cheese makes this dip unbelievably creamy, too – as well as allowing it to reheat smoothly over a low flame. Scoop it up with tortilla chips, drizzle into tacos, stir it into warm pasta for Tex-Mex mac-and-cheese – the possibilities are almost endless!
Ingredients
2 T plus 2 tsps olive oil, divided
1 lb Bell & Evans taco-seasoned ground chicken
1/2 Cup Chopped onion
1 Cup plus 2 T Whipping cream
1 8-ounce pkg Cream cheese, room temperature
1 Cup (packed) Freshly shredded Cheddar cheese
1 Cup (packed) Freshly grated Monterey Jack cheese
2 T Mexican-style lager, such as Modelo, Tecate, or Corona
2 T Finely chopped chipotle chilis in adobe (from 1 7-oz can)
¼ Cup Diced red onion
1 Small Jalapeno, seeded and minced
¼ Cup Crumbled Cotija or queso fresco
Tortilla chips, for serving
Preparation
Heat 2 tablespoons oil in large skillet over medium-high heat. Add the ground chicken and sauté, breaking it up into small crumbles with a wooden spoon as it cooks, until cooked through and beginning to brown, about 8 minutes. Remove from heat, and set aside ¼ cup of cooked meat for topping.
Heat remaining 2 teaspoons oil in a small cast iron skillet over medium heat. Add onion; sauté until tender and translucent, about 5 minutes. Reduce heat to low.
Add cream, cream cheese, Cheddar, and Monterey Jack. Whisk until smooth, about 3 minutes. Whisk in beer, if using, and cook for another 1 minute. Season with salt and pepper. (Can be made one day ahead; cover and refrigerate. Whisk queso for about 5 minutes over medium heat, until melted and smooth, before continuing).
Stir in chopped chipotles and remaining cooked ground chicken. Remove from heat.
Sprinkle queso with reserved cooked chicken, diced red onion, minced jalapeno, and crumbled Cotija. Serve warm with tortilla chips.
Featured Product
You may also like