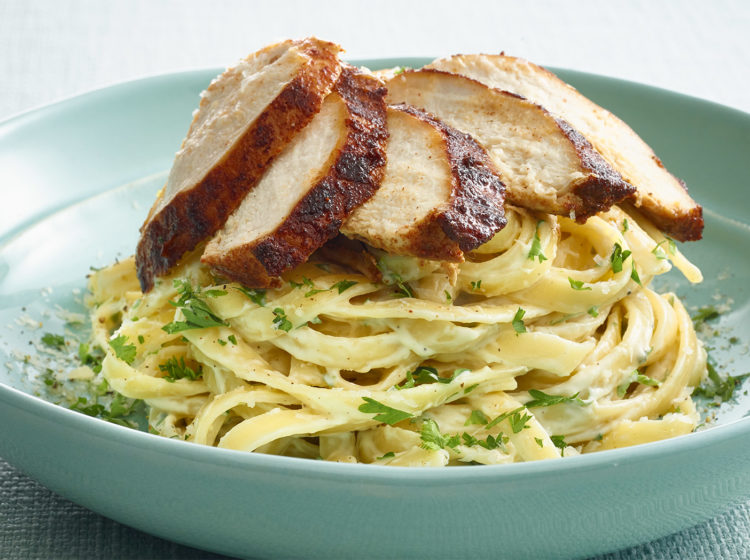 Sweet & Smokey Pan Seared Paprika Chicken with Fettuccine Alfredo
Serves: 4
Prep Time: inutes
Cook Time: inutes
Total Time: inutes
The sweet and smokey sear on flavorful, juicy chicken breast cutlets compliments the mild alfredo sauce over homemade fettuccine noodles.  This isn't your mother's Chicken Fettuccine Alfredo… it's your mother's Chicken Fettuccine Alfredo gone gourmet.
Ingredients
Homemade Alfredo Sauce
½ Stick unsalted butter
4 Cloves fresh garlic, finely minced
2 T All-purpose flour
4 Cups Heavy whipping cream
¾ Cup Parmesan cheese, grated
Salt & pepper, to taste
Bell & Evans Signature Spice Rub
1 T Granulated sugar
1 T Granulated garlic
2 T Smoked paprika
2 T Sweet paprika
1 tsp Kosher salt
½ tsp Black pepper
Other
I lb. Refrigerated Fettuccine
2 T Olive oil
Fresh parsley, chopped for garnish
Parmesan cheese, grated for garnish
Preparation
Alfredo Sauce
Melt butter in a medium sized sauce pan over medium heat.
Add minced garlic and sauté until fragrant, being careful not to brown.
Add all-purpose flour and blend well. Cook for 2 minutes.
Add heavy whipping cream and bring to a simmer. Stir and simmer until slightly thickened.
Remove from heat, add grated parmesan cheese and season sauce with salt and pepper.
Set aside until ready to serve.
Spice Rub and Chicken
Preheat oven to 350°F
Combine all spices and blend well.
Generously coat both sides of chicken breasts with spice rub.
Warm olive oil over medium-high heat in a large skillet. Sauté chicken until golden brown. Approximately 5 minutes per side.
Place chicken into a 350°F oven for 10-15 minutes until thoroughly cooked to an internal temperature of 170°F as measured by a meat thermometer.
Serving
Cook fettuccine according to package instructions
Toss pasta with alfredo sauce.
Garnish with fresh chopped parsley and grated parmesan cheese.
Slice chicken and serve on top of pasta.
Featured Product
You may also like