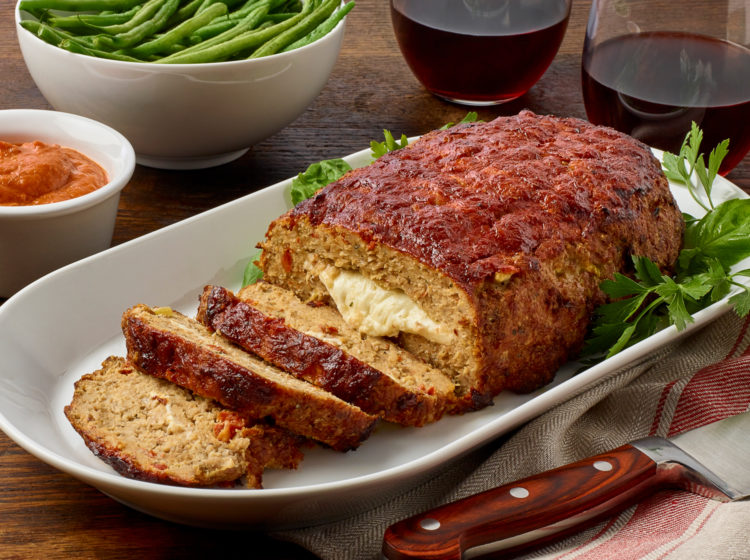 Stuffed Italian Chicken Meatloaf
Serves: 6
Prep Time: inutes
Cook Time: inutes
Total Time: inutes
Our new Ground Chicken Leg Meat makes quick work of this stuffed meatloaf with an ooey-gooey melted fresh mozzarella cheese center, studded with bright pops of sundried tomato. The roasted red pepper tomato sauce takes the place of plain ketchup as the topping, and also serves as a zingy condiment on the side.
Ingredients
Roasted Red Pepper Sauce
1 Head Garlic
1/2 lb Plum tomatoes, halved lengthwise and seeded
1 Lg Red pepper
1 Medium Onion, unpeeled
2 T Olive oil
1 T Balsamic vinegar
Salt & Pepper to taste
For the Meatloaf
1 Medium Onion, chopped
1 Stalk Celery, chopped
1 ⅓ Cup Dry breadcrumbs
2 Eggs lightly beaten
3 T Finely chopped, oil-packed sundried tomatoes
2 T Worcestershire sauce
2 T Ketchup
1 tsp Dried oregano
1 tsp Dried parsley
1 tsp Dried basil
Salt & pepper
6 oz Fresh mozzarella, sliced 1/4" thick
2 oz Mild Provolone deli slices
Preparation
For the Roasted Red Pepper Sauce
Preheat oven to 375°F. Cut off and discard top quarter of garlic head and wrap remainder in foil. Toss tomato halves, bell pepper, and onion in oil. Arrange tomatoes cut sides up on a foil-lined baking sheet and sprinkle lightly with salt. Add whole bell pepper, onion, and garlic (in foil) to baking sheet and roast until partially charred, turning every 15 minutes, about 45 minutes to 1 hour.
Transfer bell pepper to a bowl and cover bowl with plastic wrap, then let stand about 15 minutes.
When cool enough to handle, peel and seed pepper over bowl. Transfer pepper to a food processor or blender. Add strained liquid from bowl, any accumulated juices from baking sheet, and roasted tomatoes. Peel onion; coarsely chop and add to blender.
Unwrap garlic and squeeze roasted cloves from skin into food processor. Add vinegar, then purée sauce until smooth. Season to taste with salt and pepper. Set aside 1/3 of sauce and reserve remaining 2/3 separately.
For the Meatloaf
Preheat oven to 350°F. Lightly grease a foil-lined baking sheet with olive oil or nonstick cooking spray.
In a large mixing bowl, combine ground chicken and next 10 ingredients. Knead until well combined. Season with salt and pepper.
Divide meat mixture in half. Place one half of mixture onto prepared baking sheet and shape into a rough oval, about 9 x 5 inches. Move the remaining half of the meat mixture onto a sheet of cling film and shape into another 9 x 5-inch oval.
Cut Provolone slices in half, to form half-circles, then fold each half-circle in half, to form triangles. Place mozzarella slices down the center of the formed meat mixture on the baking sheet, alternating with Provolone slices, and leaving 1/2 inch around the ends and sides. Using the cling film, turn the second formed half of the meat mixture over the cheese, to form the top of the meatloaf. Seal the edges all the way around the meatloaf.
Brush the top of the meatloaf with 1/3 cup of red pepper tomato sauce set aside earlier. Bake meatloaf in preheated oven until cooked through, about 1 hour. Let rest 5 to 10 minutes before serving. Serve with remaining roasted red pepper tomato sauce on side.
You may also like