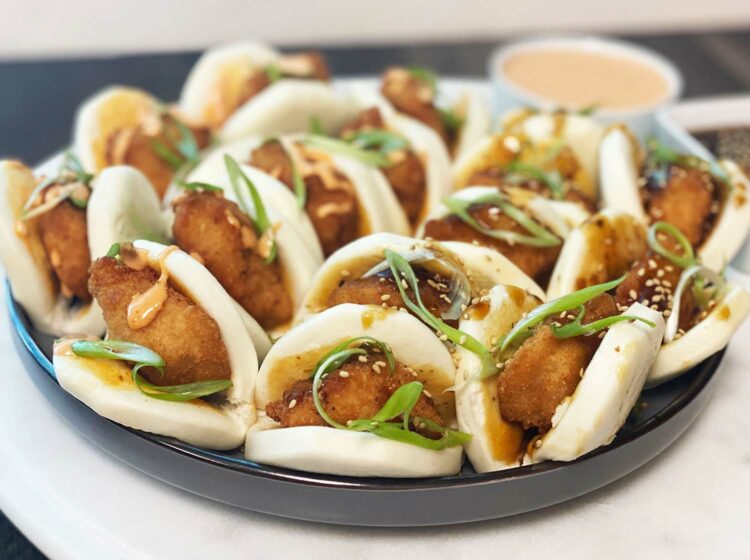 Steam Buns with Teriyaki and Spicy Mayo
Serves: 6
Prep Time: inutes
Cook Time: inutes
Total Time: inutes
These steamy Teriyaki Chicken Nugget Buns are so easy!  They will never know it took under 30 minutes to make these delectable gourmet tiny sandwiches. The homemade sauces really make a difference!
Ingredients
1 TB Toasted sesame seeds (black or white)
1 box Lotus Leaf steam buns
2 ea Scallions (slice thinly on the bias, soak in cold water and then pat dry)
Spicy Mayo
1/2 cup Mayonnaise
2 TB Siracha chili sauce
1 oz Soy sauce
1/2 tsp Sesame oil
1/2 tsp Lime juice
Teriyaki
4 oz Soy sauce (naturally brewed)
3 oz Mirin
3 oz Sake (cooking quality is fine)
5 TB Sugar
1 tsp Chopped garlic
1/2 tsp Minced ginger
1 TB Sesame seeds
Preparation
Cook chicken nuggets in oven or air fryer according to package instructions.
Heat steam buns according to package directions (steamer insert, steamer basket or microwave).
Spread a liberal amount of desired sauce inside lotus leaf steak bun and place a chicken nugget inside.
Top with sliced scallions, toasted sesame seeds and a drizzle of additional sauce.
You may also like