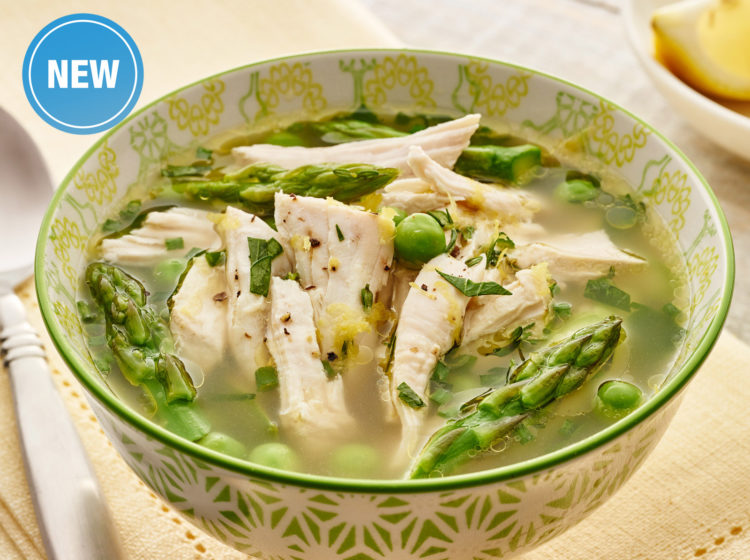 Spring Chicken and Vegetable Soup
Serves: 6
Prep Time: inutes
Cook Time: inutes
Total Time: inutes
This bright & brothy soup is packed full of seasonal veggies, tender chicken, fresh herbs & lemon. Simple, healthy & absolutely refreshing.  Who says you can't eat soup all summer long?
Ingredients
8 Cups Chicken Broth
1 Bunch Asparagus ends trimmed & cut on the diagonal into ¼ inch slices
1 ½ Cups Frozen Petite Green Peas
½ Cup Fresh Flat Leaf Parsley, roughly chopped
1 T Fresh Thyme leaves only, finely chopped
1 T Fresh Chives, finely chopped
1 Lemon, zested & juiced + 1 Lemon, cut into wedges for serving (optional)
Salt & Pepper, to taste
Preparation
In a large stock pot combine chicken breasts and chicken broth.
Bring to a low simmer. Cover & cook for approximately 30-40 minutes until chicken is thoroughly cooked to an internal of 170°F as measured by a meat thermometer. Once cooked, remove chicken from broth and allow to cool. Once cooled, remove skin and pull meat from the bone into large pieces.
To the stock pot add asparagus and green peas. Cook al dente for about 5 minutes making sure not to overcook. You want to maintain texture and color in the vegetables.
Remove from heat. Add to pot chicken, lemon zest, lemon juice and chopped herbs.
Season with salt and pepper, to taste.
Serve with warm crusty bread and extra lemon wedges (optional).