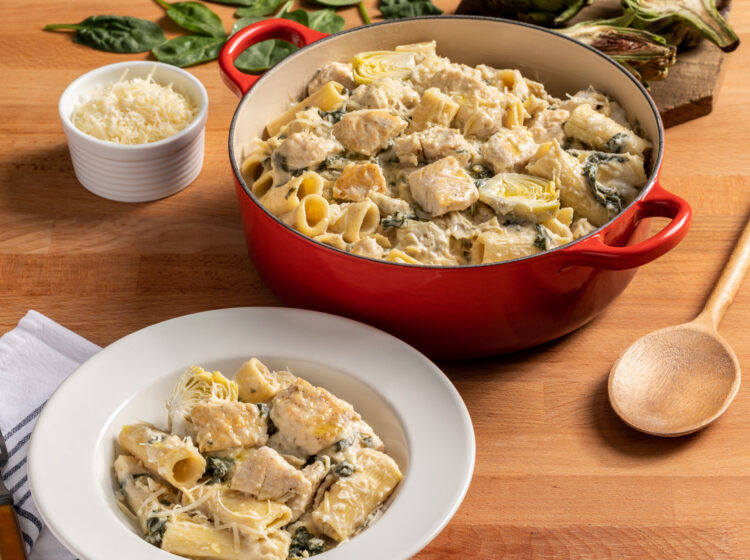 Spinach Artichoke Chicken Pasta
Serves: 6
Prep Time: inutes
Cook Time: inutes
Total Time: inutes
A classic dip transforms into this creamy spinach artichoke pasta with Bell & Evans Boneless Skinless Chicken Tenders. It's made with a creamy, cheesy sauce, fresh spinach and artichoke hearts for a pasta that is sure to please!
Ingredients
8 oz Rigatoni pasta
1/2 tsp Salt
1/4 tsp Freshly ground pepper
1 TB Olive oil
2 TB Butter
2 TB All-purpose flour
2 cups Whole milk
1 1/2 cup Shredded mozzarella cheese
1/2 cup Shredded parmesan cheese, plus extra for topping
1 14-oz can Artichoke hearts, drained and chopped
2 cups Fresh baby spinach
1/2 tsp Garlic powder
Chopped fresh parsley, for garnish
Preparation
Cook Rigatoni according to package directions. Drain and set aside.
Meanwhile, season both sides of the chicken with salt and pepper.
Heat oil in a large skillet over medium heat. Cook chicken 3-4 minutes per side or until cooked through. Remove from skillet and set aside to rest.
Melt butter in the same skillet over medium heat. Add flour and whisk for 1 minute until lightly browned. Pour in milk, whisk to combine and bring to a simmer.
Add mozzarella and parmesan to the pot and whisk until completely melted. Add artichokes, spinach, and garlic powder and cook until spinach is wilted. Remove from heat and mix in cooked rigatoni until combined.
Slice chicken into bite size pieces and mix into pasta. Garnish with extra shredded parmesan and chopped parsley.
Featured Product
You may also like