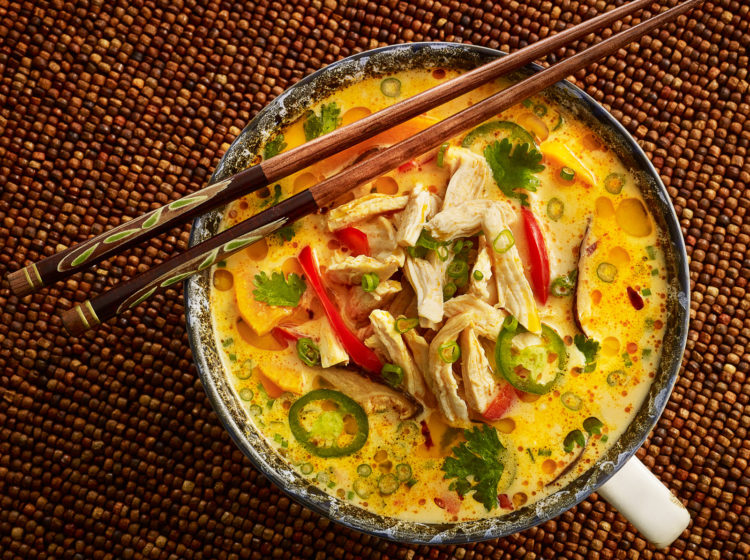 Ingredients
2-4 T Extra-virgin olive oil
1 Medium sweet onion, peeled & finely diced
3 Cloves garlic, minced
2 T Ginger root, peeled & minced (or 2 T of already made ginger paste)
3 Stalks lemongrass, smashed & cut in half (or 3 T of already made lemongrass paste)
Dried red chili peppers, crushed, use to your liking
3 T Mild red curry paste
3 Cups Chicken broth
2 Medium sized yams, peeled and large diced
1 Cup dried sliced shitake mushrooms (or fresh shitakes), stems removed & roughly chopped
1 Can unsweetened coconut milk (13.5 fl oz.)
Juice of 1 lime
1 ½ T Fish sauce
1 Small red bell pepper, seeded & thinly sliced/ julienned
Salt & pepper, to taste
To Serve
Chopped Cilantro
Chili oil
Thin Sliced Green scallions
Thin Sliced Jalapenos, seeds removed
Lime wedges
Preparation
In a medium-sized pot heat olive oil over low heat. Add onion, garlic, ginger root, lemongrass, and dried red chili peppers. Season with salt & pepper. Sauté until translucent.
Add red curry paste and chicken broth. Stir until well blended.
Add chicken skin side up and bring to a slow simmer. Cover and cook for approximately 30-40 minutes until chicken is thoroughly cooked to an internal of 170°F as measured by a meat thermometer. Remove chicken from liquid and allow to cool. Once cooled remove skin and pull meat from the bone into large pieces.
Add yams and shitake mushrooms. Cook for 10-15 minutes at a low simmer uncovered until yams are tender. After yams are tender add coconut milk, lime juice, and fish sauce. Season with salt & pepper.
Add red peppers & pulled chicken. Allow to warm before serving.
To Serve
Ladle into individual serving bowls.
Garnish with a smattering of fresh cilantro, scallions and jalapenos. Add a light drizzle of chili oil.
Serve with lime wedges to squeeze before serving.
Featured Product
You may also like