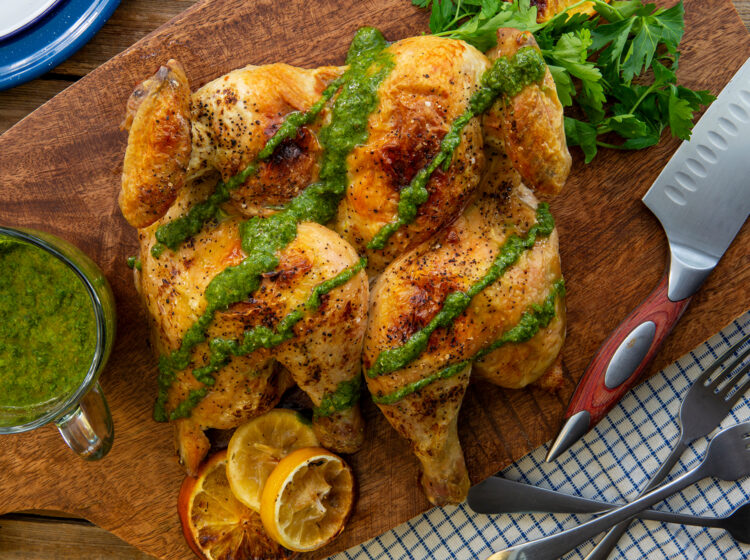 Spatchcock Chicken with Salsa Verde
Serves: 4
Prep Time: inutes
Cook Time: inutes
Total Time: inutes
The salsa verde for this recipe is a must! It complements the Bell & Evans Spatchcock chicken well. And since the chicken is only seasoned simply with salt and pepper, it helps to add more flavor with the salsa verde. This recipe was featured in Simply Gluten-Free Magazine's January 2022 issue.
Ingredients
Kosher or fine sea salt
Freshly ground black pepper
2 Oranges
3 Lemons, divided
1 small bunch Fresh thyme
1 cup Fresh Italian parsley
1 cup Fresh cilantro
½ cup Fresh basil leaves
3 Garlic cloves, smashed, peeled, and coarsely chopped
2 TB Rice or white wine vinegar
2 TB Capers, drained
2 Anchovy filets
½ - ¾ cup Olive oil
Preparation
Preheat oven to 400°F. Season both sides of the chicken with salt and pepper.
Line a rimmed baking sheet with parchment or foil. Slice the oranges into ¼ inch slices. Slice two of the lemons into ¼ inch thick slices. Place the orange and lemon slices on the prepared baking sheet to create a "rack" for the chicken to sit on. Top the citrus with the thyme springs. Place the chicken on top of the citrus and herbs, skin side up. Tuck the wings under the breasts. Roast for 45 minutes or until the skin is browned and crispy and an instant read thermometer inserted into the inner thigh reaches 160°F. Remove from oven, place on a cutting board, and let rest for 5 – 10 minutes.
Place the parsley, cilantro, basil, garlic, vinegar, capers, 1 teaspoon pepper, and anchovies in a food processor. Pulse several times until the herbs are coarsely chopped. With the machine running, drizzle in enough olive oil to make a thick but pourable sauce. Serve with the chicken.
Featured Product
You may also like