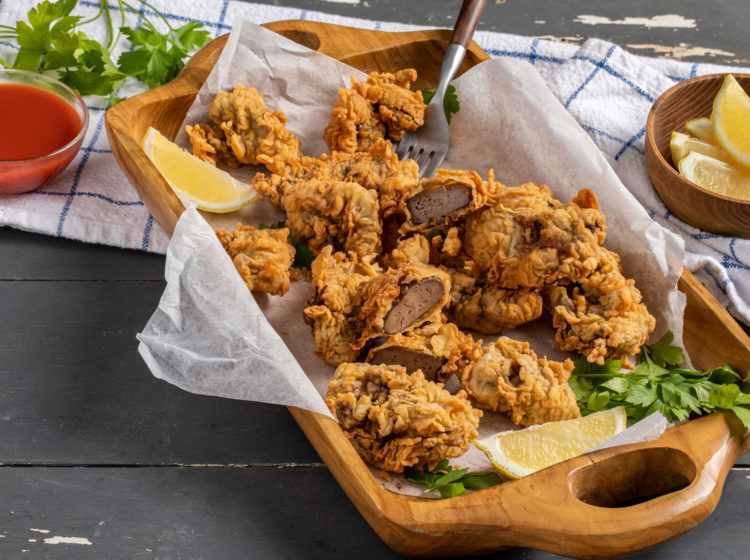 Southern Fried Chicken Livers (Paleo)
Serves: 4
Prep Time: inutes
Cook Time: inutes
Total Time: inutes
Iron- and B-vitamin-rich chicken livers are transformed into a crunchy snack, thanks to a paleo-friendly, deep-fried crust. This technique, borrowed from Southern cooking traditions, produces a wonderfully crisp exterior with a creamy, tender texture inside these savory bites.
Ingredients
1 Pkg Bell &Evans chicken livers
1 Cup Paleo flour
1 Cup Tapioca flour
¼ Cup Arrowroot starch
1 1/2 tsp Salt
1/2 tsp Black pepper
1/2 tsp Onion powder
1 tsp Paprika
1/4 Cup Unsweetened coconut milk
1 tsp Apple cider vinegar
1 Egg, beaten
1 Cup Cooking oil, or more if needed to fill skillet to 1 inch depth
Preparation
In a medium shallow bowl, combine the flours, arrowroot and seasonings. Set aside.
In a separate bowl, combine coconut milk and vinegar. Add beaten egg and whisk together.
Add the chicken livers to a colander and rinse. Drain well.
Heat oil in a skillet over medium heat.
Meanwhile, dredge chicken livers in the flour mixture, then coat in the egg mixture, and a second dredge in the dry mixture. Place coated livers on a parchment-lined platter to prepare for frying.
When the cooking oil is hot, add the chicken livers in batches of 4 to 5 at a time. Do not overcrowd the pan.
Cook 3-4 minutes per side, until firm, golden brown and crispy.
Drain cooked livers on a paper-towel-lined plate or a sheet pan lined with a cooling rack.
Allow to rest 10 minutes. Serve with your favorite dipping sauce or gravy.
Featured Product
You may also like