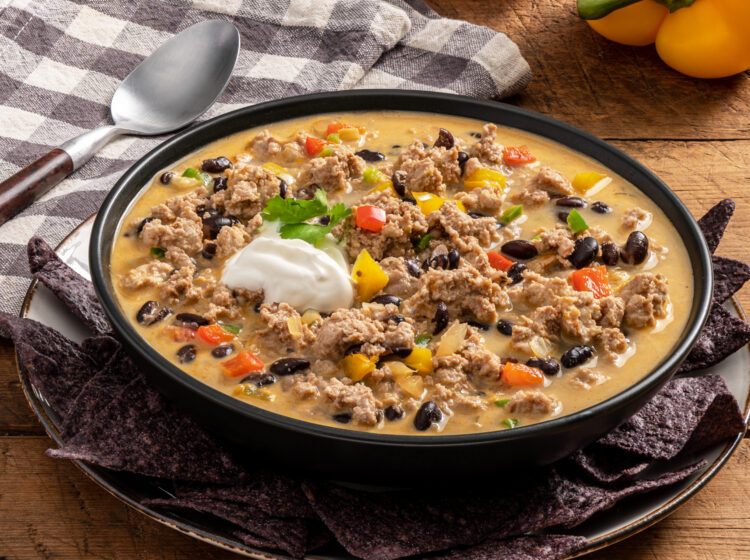 Slow Cooker Southwest White Chicken Chili
Serves: 8
Prep Time: inutes
Cook Time: inutes
Total Time: inutes
There are a number of variations on traditional red chili, and this one might just be our favorite! White chili is usually made with chicken instead of beef, and the complex profile of mixed spices is balanced with a splash of heavy cream. Use Bell & Evans Ground Chicken Leg Meat for maximum flavor, and a slow cooker for maximum convenience!
Ingredients
2 (15.5-oz) cans Black beans
6 cups Low-sodium chicken broth
1 each Yellow and red bell peppers, seeded and chopped
1 large Onion, chopped
3 Jalapeno peppers, seeded and minced
3 cloves Garlic, minced
2 TB Ground cumin
1 TB Smoked paprika
2 tsp Chili powder
2 tsp Dried oregano
1 tsp Dried coriander
1 tsp Salt
1/2 tsp Black pepper
1/4 cup heavy cream
3 Plum tomatoes, seeded and chopped
2 cups Tortilla strips or tortilla chips
1 cup Shredded cheddar cheese
1/2 cup Fresh cilantro leaves
1/2 cup Sour cream
Preparation
Heat oil in large skillet over medium-high heat. Add ground chicken leg meat and sauté, breaking up into small crumbles with a wooden spoon as it cooks. Cook for about 8 minutes, until chicken is cooked through and begins to brown. Remove from heat.
Place cooked chicken, beans, broth, bell peppers, onion, jalapeno, garlic, cumin, paprika, chili powder, oregano, coriander salt and pepper in a 8-quart slow cooker. Cover and cook on high for 3 hours, or low for 5 hours, until flavors have fully developed.
Stir in heavy cream until combined. Divide between serving bowls and top with tomatoes, tortilla strips, cheese, cilantro and a dollop of sour cream.
Featured Product
You may also like