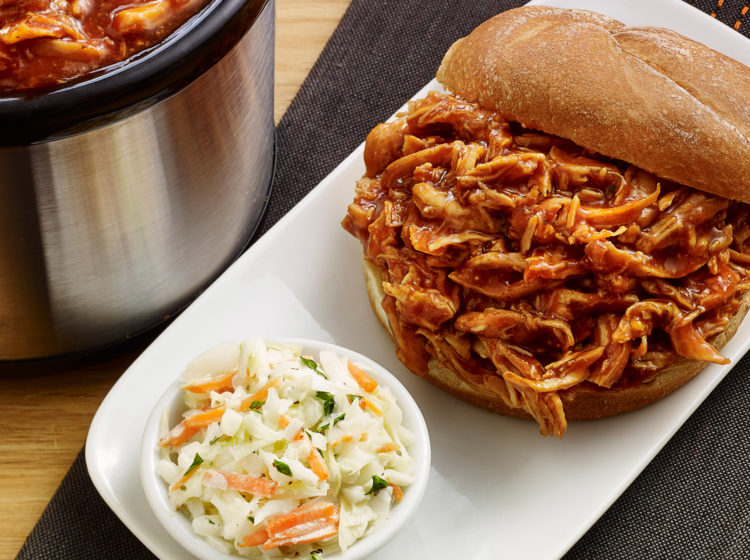 Slow Cooker Pulled Chicken BBQ with Homemade BBQ Sauce
Serves: 8
Prep Time: inutes
Cook Time: inutes
Total Time: inutes
Take your slow cooker pulled chicken to the next level with our homemade BBQ sauce.  Pull apart, melt in your mouth Bell & Evans chicken breasts slow cooked with our sweet and tangy sauce.  Make extra!  It's also great as the feature ingredient of our BBQ Chicken Nachos Recipe.
Ingredients
Chicken & Rolls
8 Kaiser rolls, or buns of your choice
BBQ Sauce
4 T Unsalted butter
1 Small sweet onion, peeled & finely diced
4 Cloves garlic, minced
¼ Cup dark brown sugar
½ Cup apple cider vinegar
3 T Dijon mustard
3 T Soy sauce
½ Cup Molasses
6oz Can tomato paste
¾ Cup chicken broth
Salt & pepper, to taste
Crushed red pepper flakes, to taste
Preparation
Slow Cooker
In a medium-sized sauté pan melt butter over low heat. Add onion and garlic. Season with salt, pepper and red pepper flakes. Sauté until translucent.
Add remaining ingredients, whisking to incorporate. Simmer 10 minutes until slightly thickened.
Place chicken in slow cooker and top with BBQ sauce.
Cook 3-4 hours on high or 6-8 hours on low.
Shred chicken with two forks... It will be fall-apart tender. After shredding be sure to stir chicken with excess sauce. Re-season with salt & pepper if need be and keep warm until ready to serve.
Serve on buns with your favorite coleslaw or summer salad.
Featured Product
You may also like