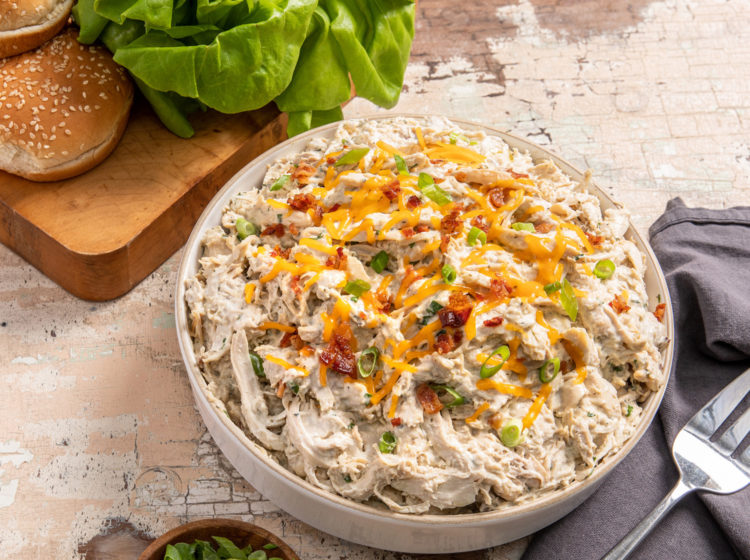 Slow Cooker Crack Chicken
Serves: 8
Prep Time: inutes
Cook Time: inutes
Total Time: inutes
Popular for a reason, this easy Crack Chicken recipe is irresistibly delicious, versatile and habit-forming, featuring our  Boneless Skinless Chicken Breasts or flavorful Thighs. For this recipe, we prefer to use our own herbs and spices for flavor, but in a pinch, use your favorite ranch dressing packet in place of the herbs and spices.
Ingredients
1 Pkg Bell & Evans Boneless Skinless Chicken Breasts or Thighs
1/2 cup Low-sodium chicken broth
Organic ranch seasoning dry mix packet (optional substitution for herbs and spices)
1/2 tsp Sea salt
1/4 tsp Black pepper
1 Block (8 oz) cream cheese, at room temperature, cut into 4 pieces for easier melting
1/2 cup Sour cream
2 cups Shredded cheddar cheese, divided
6 slices Bacon, cooked to a crisp and chopped
1/3 cup Chopped green onions, for serving
Chopped fresh parsley, to taste, for garnish
Home-made Organic Ranch Seasoning
2 tsp Garlic powder
2 tsp Onion powder
1 1/2 tsp Dried parsley
1 1/2 tsp Dried dill
1/2 tsp Dried chives
Preparation
Add chicken broth, herbs and spices to slow cooker and stir to combine. Either the Organic Ranch Seasoning Packet can be used or the individual ingredients as noted in the recipe. Add chicken breasts and toss to coat chicken.
Cover and cook on high for 2 to 3 hours, or low for 5 hours.
Remove lid and shred chicken inside slow cooker using two forks.
Stir in cream cheese, sour cream and 1 1/2 cups shredded cheddar cheese until completely melted and combined. Top with remaining cheddar cheese; cover until cheese melts.
Sprinkle chopped bacon, green onions and parsley on top. Serve on rolls, in lettuce cups, for a keto option, or as a dip with cauliflower, keto crackers, keto soft pretzels, or broccoli.
Featured Product
You may also like