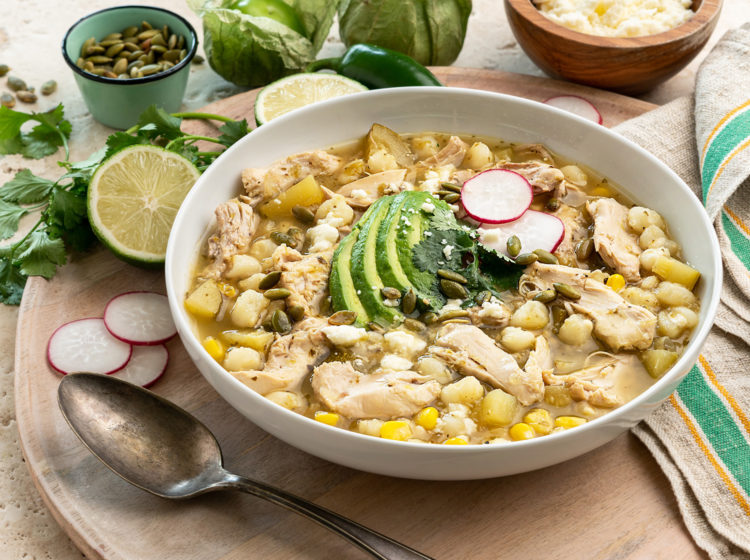 Slow-Cooker Chicken Pozole Verde
Serves: 6
Prep Time: inutes
Cook Time: inutes
Total Time: inutes
This Mexican-style stew is a celebration of textures and bright flavors. Because it comes together easily in the slow-cooker, using our boneless skinless breasts or thighs, you can turn any night into a fiesta!
Ingredients
1 Package Bell & Evans Boneless skinless breasts or thighs
1/2 lb Fresh tomatillos, husks removed
1/2 White onion, roughly chopped
1 Jalapeno, seeds and membranes removed
2 Cloves garlic, smashed
1/2 Cup Cilantro
1/2 Lime, juiced
1/2 tsp Salt, plus more to taste
1/2 tsp Ground cumin
1 Medium zucchini, chopped
2 Cups Fresh corn kernels
2 (15 oz) Cans hominy, drained
1 TB Dried oregano
6-8 Cups Low-sodium chicken broth
Toppings
Tortilla strips
Avocado, sliced
Cilantro
Cotija cheese, crumbled
Pumpkin seeds, toasted
Lime wedges
Preparation
Preheat oven to 400°F.
Remove husks from tomatillos and slice in half. Place tomatillos, cut-side-down, on a large baking sheet lined with parchment paper. Add halved jalapeno, chopped onion and garlic cloves to baking sheet and bake in oven for about 20 minutes. Broil vegetables for an additional 3 to 5 minutes, until the skins are beginning to char.
Allow to cool, then add vegetables, cilantro, lime juice, salt and cumin to a food processor. Blend until all ingredients are well-combined and there are no large pieces.
Add puree, chicken, zucchini, corn, hominy, oregano and chicken broth to slow-cooker. Cover and cook on high for 3 to 5 hours, or low for 6 to 8 hours.
Shred chicken with two forks. If desired, add additional chicken broth to desired consistency. Season, to taste, with salt.
Serve topped with tortillas, avocado, cilantro, cheese, pumpkin seeds, and lime juice.
Featured Product
You may also like