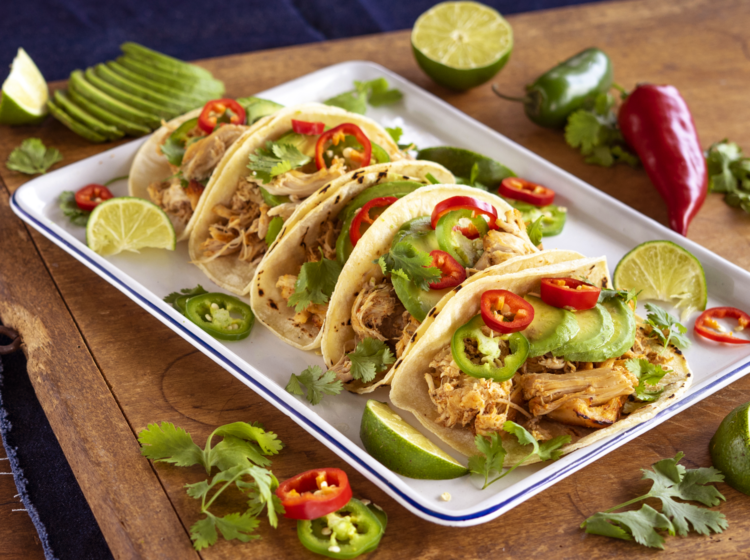 Slow Cooker Chicken Carnitas
Serves: 12
Prep Time: inutes
Total Time: inutes
This simple ingredient Slow Cooker Chicken Carnitas recipe will save time in the kitchen and impress your family with its traditional Mexican flavor.  With a little meal prep, this healthy dinner, featuring flavorful Boneless, Skinless Thighs, can be on the table in less than 20 minutes!
Ingredients
For carnitas
2 Cups low-sodium chicken stock
1 Yellow Onion, diced
4 Cloves Garlic, minced
2 T Chili powder
1 T Cumin
1 1/2 tsp Salt
1 tsp Black Pepper
For Tacos (suggested serving method)
24 Small Corn Tortillas, warmed
Fresh Cilantro, roughly chopped
Sliced Avocado, for serving
Sliced Jalapeño, for serving
Lime wedges, for serving
Preparation
Combine all ingredients for carnitas in slow cooker and stir until chicken is well-coated. Cook on low for 6-8 hours, until chicken shreds easily with fork.
Preheat oven broiler to high and position rack in center of oven. Coat rimmed baking sheet with nonstick cooking spray. Transfer cooked chicken thighs to baking sheet, reserving juices in slow cooker, and shred into bite-sized pieces with two forks. Broil 5 minutes, until chicken begins to crisp up on edges. Remove from oven and ladle 1/2 cup cooking liquid over chicken and toss to coat. Broil 5 minutes and repeat process, broiling additional 5 minutes.
Serve carnitas in burritos, on rice bowls or in our favorite, tacos: load carnitas in warm tortillas topped with cilantro, avocado, and jalapeño. Serve with lime wedges to squeeze over tacos before eating.
Featured Product
You may also like