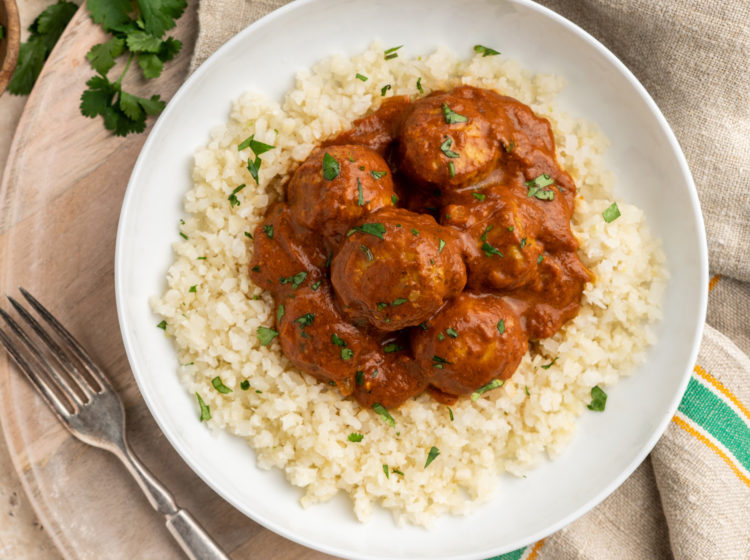 Slow-Cooker Butter Chicken Meatballs
Serves: 6
Prep Time: inutes
Cook Time: inutes
Total Time: inutes
Add richly spiced flavor to your weeknight dinner routine with our simple slow-cooker version of a classic Indian dish, made even easier by using our traditional chicken meatballs.
Ingredients
2 Packages Bell & Evans Traditional Meatballs
1 Small yellow onion, diced
4 Cloves garlic, minced
1 TB Fresh ginger, minced
1 1/2 TB Curry powder
1 TB Garam masala
1 1/2 tsp Chili powder
3/4 tsp Kosher salt
6 oz Tomato paste
14 oz Tomato sauce
2 TB Butter, unsalted, cut into small pieces
1/3 Cup heavy cream or full-fat coconut milk
Fresh cilantro, to taste
Preparation
Add onion, ginger, garlic, curry, garam masala, chili powder, salt, and tomato paste to slow-cooker and stir together.
Lay chicken meatballs on top and cover with tomato sauce. Gently stir to combine. Scatter the butter pieces over the top.
Cover and cook on high, 2 to 2 1/2 hours, or on low for 4 to 6 hours, until the meatballs are cooked through and reach 165°F on a digital thermometer. The cooking time may vary based on your slow-cooker, so check to ensure the sauce does not dry out. Turn off heat and allow to cool slightly.
Stir in cream. Enjoy warm over cauliflower rice or with naan, sprinkled with fresh cilantro.
Featured Product
You may also like