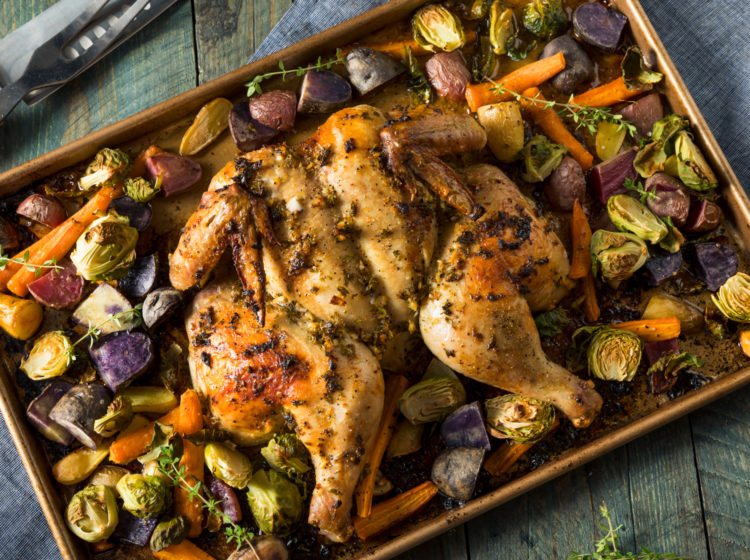 Sheet Pan Spatchcock Chicken
Serves: 4
Prep Time: inutes
Cook Time: inutes
Total Time: inutes
This recipe was created by local chef, Nick Hostetter, Executive Chef of Hidden Still Spirits in Hershey.  This easy, one-pan meal features our Spatchcock Chicken and local, fresh vegetables and herbs, along with an amazing Lemon Truffle Butter.
Ingredients
Chicken
1 tsp Sea salt
1/4 tsp Black pepper
Lemon Truffle Butter
5 TB Softened unsalted butter
1 TB White truffle oil
1 TB Chopped fresh parsley
1 TB Chopped fresh chives
2 Garlic cloves, minced
1/2 tsp Lemon zest
1 TB Fresh lemon juice
1 tsp Sea salt
1/4 tsp Black pepper
Garden Vegetables
2 lb. Quartered Yukon gold potatoes
1 Quartered carrots
3 Quartered parsnips
12 oz Halved brussels sprouts
2 TB Garden citrus spice blend
2 TB Olive oil
Preparation
Preheat oven to 400°F. Lay chicken, breast side up, on a parchment-lined sheet pan.
Carefully separate the skin from the meat by running fingers under the skin.
Place 3/4 of the prepared butter under the skin and spread gently by pressing down and moving around.
Add remaining butter to the outer skin of the chicken and season with sea salt and pepper.
Toss your vegetables with space, blend with olive oil and arrange around the chicken on the sheet pan.
Place in oven for 40 minutes or until the internal temperature reaches 165°F.
Featured Product
You may also like