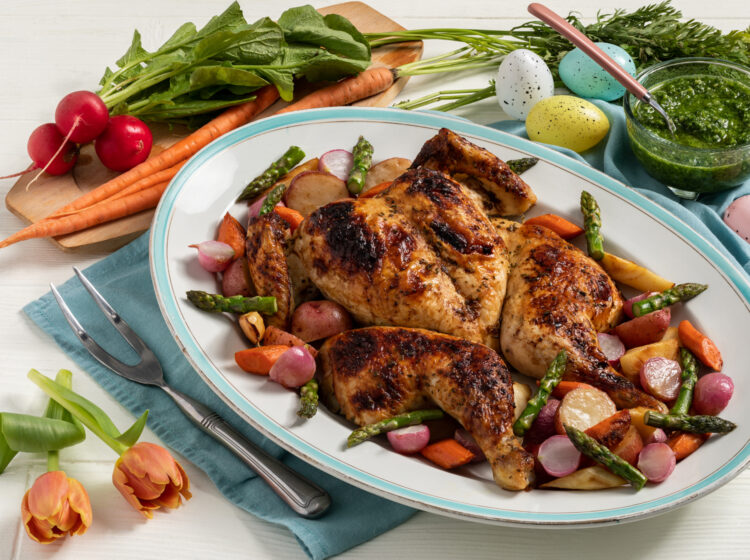 Sheet-Pan Chicken Easter Dinner
Serves: 4
Prep Time: inutes
Cook Time: inutes
Total Time: inutes
A beautiful, nourishing centerpiece for a holiday meal doesn't necessarily require a big production in the kitchen. This savvy recipe calls on two weeknight dinner hacks — sheet pan suppers and spatchcock chicken — to cut down on time and effort. The result is no less stunning though: a platter of juicy, perfectly cooked chicken, surrounded by tender spring vegetables and garnished with a herbaceous carrot-top pesto.
Ingredients
1 Bell & Evans Whole Spatchcock Chicken
1/4 cup Unsalted butter
2 tsp Kosher salt, plus more, to taste
1 Lemon, zested
2 tsp Chopped fresh rosemary
2 tsp Chopped fresh tarragon, plus more for garnish
1 lb Baby red potatoes, halved
3 medium Carrots, peeled and cut diagonally into 1-inch pieces
2 medium Parsnips, peeled and cut diagonally into 1-inch pieces
8 oz. Radishes, halved
1 TB Olive oil
Black pepper, to taste
1/2 bunch Asparagus, ends trimmed, cut into 2-inch pieces
Preparation
Preheat oven to 400°F and line a baking sheet with aluminum foil. Combine butter, honey, salt, lemon zest, rosemary and tarragon in a small bowl. Rub butter mixture over the chicken and under skin.
Toss potatoes, carrots, parsnips, radishes and oil together in a medium bowl until well-coated. Season with salt and pepper, to taste.
Arrange vegetables in a single layer on the prepared baking sheet. Place chicken, skin-side-up, onto prepared baking sheet. Bake, flipping vegetables occasionally, until vegetables are just tender, about 30 minutes. Scatter asparagus around chicken. Continue to bake until asparagus is tender and chicken is golden-brown, or until internal temperature reaches 165°F, about 10-15 minutes.
Let chicken rest before slicing. Garnished with tarragon and serve.
Featured Product
You may also like