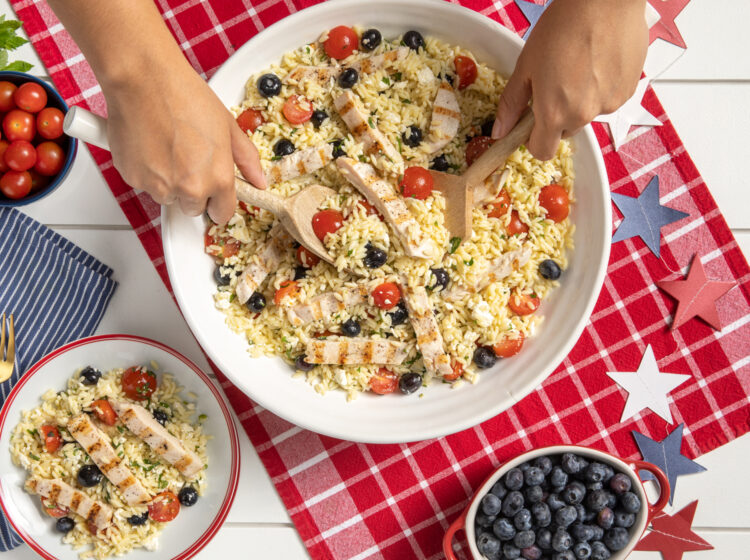 Red, White & Blue Orzo Grilled Chicken Salad
Serves: 8
Prep Time: inutes
Cook Time: inutes
Total Time: inutes
The patriotic color palette in this vibrant salad isn't just for looks — each ingredient adds a profound pop of seasonal flavor! If you're packing a picnic or prepping for a barbecue, this substantial salad works great as a side or a main dish, thanks to extra protein from quick- cooking Bell & Evans Thin-Sliced Boneless Skinless Chicken Breasts.
Ingredients
Vegetable oil, for brushing grill grates
Salt & pepper, to taste
1 lb Orzo pasta
1/2 Cup Olive oil
2 Lemons, juiced
2 cloves Garlic, minced
10 oz Cherry tomatoes, halved
1 1/2 cups Feta cheese, crumbled
1 cup Blueberries
1 TB Fresh oregano, minced
1 TB Fresh parsley, minced
1 TB Fresh mint, minced
Preparation
Preheat grill to medium heat and brush grates with oil. Season chicken with salt and pepper. Grill chicken until fully cooked through, or until the internal temperature reaches 165°F as measured by a meat thermometer, about 4 to 5 minutes per side. Let rest before slicing.
Meanwhile, fill a large pot with water and bring to a boil over high heat. Cook the orzo according to manufacturer's directions; drain. Rinse pasta under cold running water until chilled.
In a bowl large enough to hold all ingredients, whisk together oil, lemon juice and garlic until combined. Add chilled pasta, tomatoes, feta, blueberries, oregano, parsley and mint, and toss until thoroughly combined.
Slice chicken into 1/4-inch strips. Add chicken to pasta salad and season with salt and pepper, to taste. Keep salad refrigerated in an airtight container until ready to serve.
Featured Product
You may also like