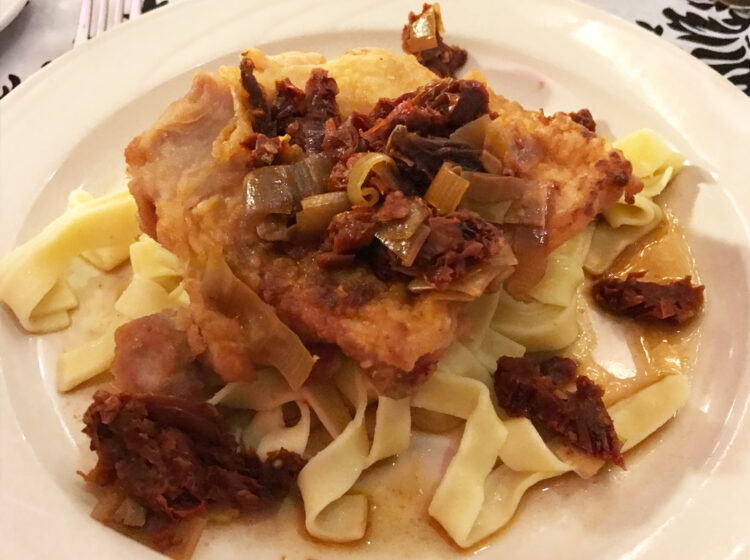 Fabio's Prosecco-Braised Chicken With Sun-Dried Tomatoes And Leeks
Serves: 4
Prep Time: inutes
Cook Time: inutes
Total Time: inutes
Ingredients
1 Cup flour
1 Leek, white and light green parts only, halved and sliced thin
4 Garlic cloves, minced
1/2 Cup sliced sun-dried tomatoes
1 Lemon, sliced
1/2 Cup Prosecco
1 Cup Chicken broth
5 TB Butter
2 TB Minced fresh tarragon
2 TB Chopped Italian parsley
Olive oil
Salt & Pepper to taste
Preparation
Season the chicken with salt and pepper. Drizzle olive oil into a large Dutch oven on medium heat, enough to barely cover the bottom. Dredge chicken in flour on the skin side, then place into oil skin side down.
Cook chicken on skin side for 1 to 2 minutes, then add the leeks. Cook for 3 minutes more, then flip chicken. Add the garlic and sun-dried tomatoes and season with salt and pepper. Cook for another 2 minutes and add lemon.
Deglaze with prosecco, then add chicken broth. Bring to a boil and reduce to a simmer. Simmer until liquid has almost reduced, about 5 minutes.
Once reduced, turn heat to low and swirl in the butter to complete the sauce. Add tarragon and parsley and adjust seasoning with salt and pepper.