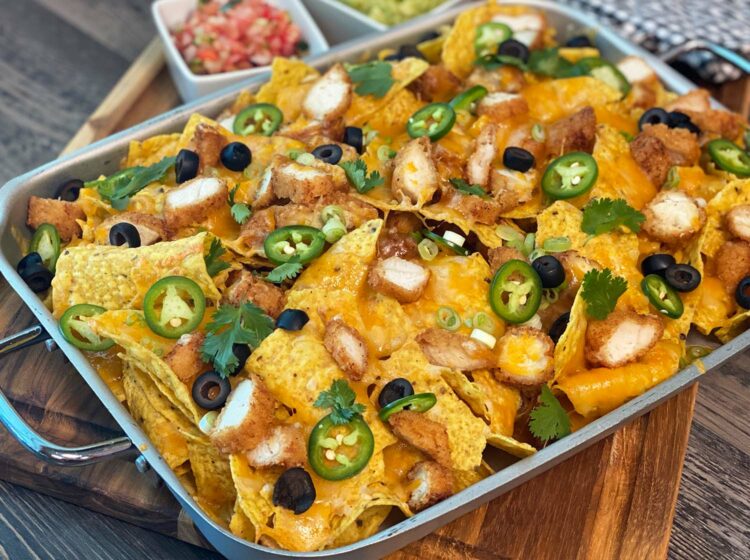 Nugget Nachos
Serves: 6
Prep Time: inutes
Cook Time: inutes
Total Time: inutes
Make these quick, easy and nutritious Chicken Nugget Nachos in minutes!
Ingredients
1 bag Your favorite Tortilla chips
1/2 cup Sliced black olives
1/3 bunch Fresh Cilantro
1 ea Jalapeño pepper (sliced)
6 oz Cheddar Jack cheese (grated)
6 oz Sharp cheddar cheese (grated)
1/2 bunch Scallions
Preparation
Prepare Bell & Evans Chicken Nuggets according to package directions.
Grate your cheeses, mix and reserve.
Pre-heat your oven to 350°F.
Wash cilantro & scallions. Pick & chop cilantro leaves, slice scallions.
Slice cooked chicken nuggets.
Place a layer of tortilla chips on a cookie sheet, baking tray or other oven safe dish and then layer 1/3 of your grated cheese on the chips. Adding 1/3 of the olives, scallions, and chicken.
Place the remainder of your chips on top and then add remaining cheese, chicken, olives, and jalapeños.
Place into your preheated oven for 10 minutes or until cheese is melted.
NOTE: Accompany with your favorite fresh salsa and guacamole. Adding some chopped cilantro, zest and a squeeze of fresh lime to sour cream is also an amazing accompaniment.