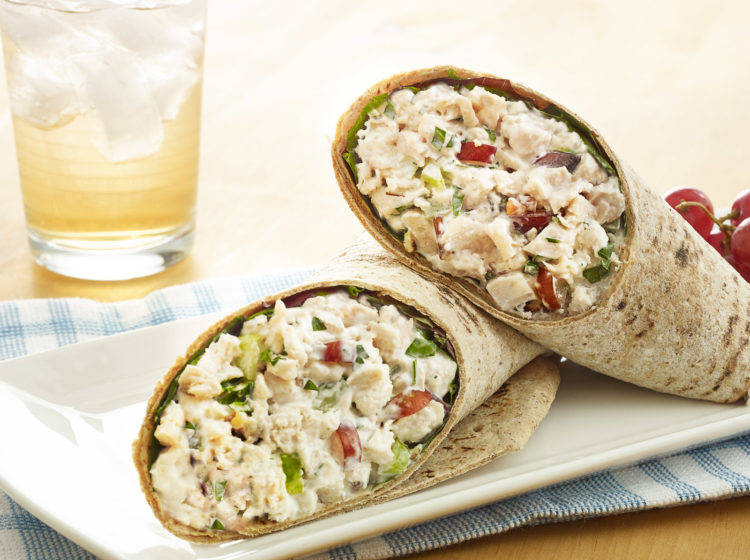 Napa Chicken Salad Wrap
Serves: 8
Prep Time: inutes
Total Time: inutes
One of our favorites…and super quick, too!  Perfectly cooked chicken folded with crunchy pecans, celery and sweet grapes.  This taste and texture combo is sure to transport your tastebuds straight to the Napa Valley.
Ingredients
6 Cups Bell & Evans fully cooked grilled chicken, roughly chopped
1 Cup Celery, diced small
1 – 1½ Cups Mayonnaise, adjust quantity to your liking
½ Cup Sour Cream
1 T Fresh squeezed lemon juice
Handful of fresh Parsley, finely chopped
Salt & pepper, to taste
1 Cup red grapes, cut in quarters lengthwise
1 Cup oven-toasted pecans, roughly chopped
8 Whole wheat wraps, or any sandwich bread of your choice
Mixed salad greens
Preparation
In a large bowl combine chicken, celery, mayonnaise, lemon juice and parsley.
Stir well and season with salt and pepper, to taste.
Cover & chill until ready to serve. Just before serving fold in grape and pecans.
Serve in a wrap or on any sandwich bread of your choice with mixed salad greens.
NOTE: This recipe is very versatile. Add finely diced red onion, a touch of Dijon mustard and honey for a little extra flavor. Also great to serve on crackers for easy entertaining.
You may also like