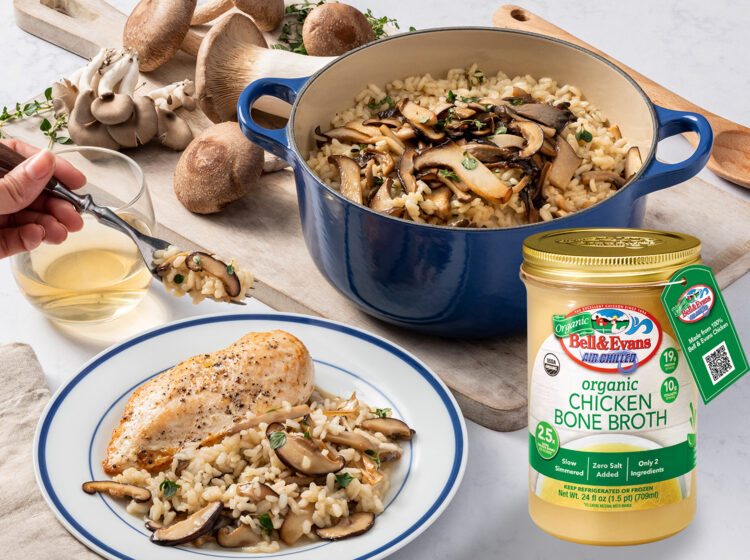 Mushroom and Herb Risotto
Serves: 6
Prep Time: inutes
Cook Time: inutes
Total Time: inutes
Careful layering of ingredients makes this risotto a wildly complex, rustic dish that is an incredible complement to roasted meats or vegetables. Wild mushrooms bring an unparalleled earthiness which is balanced with the nuttiness of Arborio rice, savory tastiness of Bell & Evans Organic Chicken Broth, sharpness of white wine, and the richness of butter and parmesan.
Ingredients
2 Pkgs Bell & Evans Organic Chicken Broth, divided, plus more as needed
4 TB Olive oil
1 lb Wild mushrooms, cleaned, stemmed and sliced
1 Shallot, minced
2 cloves Garlic, minced
1 1/2 cups Arborio rice
1/2 cup Dry white wine
3 tsp Minced fresh thyme, divided
1/2 cup Grated Parmesan cheese
2 TB Unsalted butter
Salt & black pepper, to taste
Preparation
Bring broth to a simmer in a small saucepan over medium-high heat. Keep warm on low heat until ready to use.
Heat 2 tablespoons of oil in a large, wide skillet or medium saucepan over high heat. Add mushrooms and cook, stirring occasionally, until golden-brown, about 5-8 minutes. Transfer to plate and set aside. Reduce heat to medium-high.
Add remaining oil, rice and cook, stirring constantly, until translucent, about 3 minutes. Stir in shallots and cook, stirring often until softened, about 2-3 minutes. Add garlic and cook until fragrant, about 30 seconds.
Stir in wine and 2 teaspoons of thyme, and cook until fully absorbed. Stir in 2 cups of broth. Simmer on medium-low heat, stirring constantly, until liquid is completely absorbed, about 3-5 minutes. Ladle in 2 cups of broth at a time, and cook, stirring often, until broth is absorbed. Repeat with remaining broth. Add more broth, as needed, until rice is fully cooked, about 12-15 minutes. Stir in cooked mushrooms, Parmesan cheese, butter and more broth, if needed, to adjust the consistency to resemble slow-moving lava. Season with salt and pepper. Top with remaining thyme and serve immediately.
Featured Product
You may also like