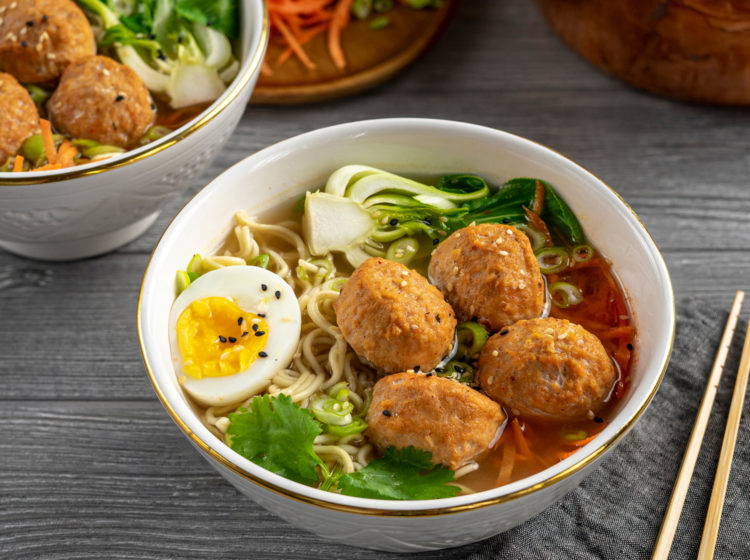 Miso Ramen with Chicken Meatballs
Serves: 4
Prep Time: inutes
Cook Time: inutes
Total Time: inutes
Ingredients
6 Cups Gut Healthy Chicken Bone Broth, or good quality organic chicken broth.
2 TB White miso paste
1 tsp Chili paste (sambal oelek)
Small Chunk ginger, peeled
1 Garlic clove, peeled and crushed
¼ oz. Dried Shiitake or porcini mushrooms
2 Medium Carrots, peeled and shredded
2 Small heads bok choy, halved lengthwise
To Serve
4 Portions Ramen noodles
4 Soft-Boiled Eggs
Toasted Sesame Seeds
Green Onions, finely chopped
Cilantro Leaves, for garnish
Preparation
Preheat oven to 375°F. Spread frozen meatballs on a baking sheet and bake for approximately 30 minutes, to an internal temperature of 170°F as measured by the use of a meat thermometer.
While meatballs are cooking, heat broth in a medium saucepan. Add miso paste, chili paste, ginger, garlic, and dried mushrooms and stir to combine. Simmer for 15 minutes.
Remove ginger and garlic pieces. Add carrots and bok choy and simmer 5 minutes.
Divide ramen noodles among 4 serving bowls. Ladle the broth over noodles and then top with meatballs, soft-boiled eggs, and garnishes.
You may also like