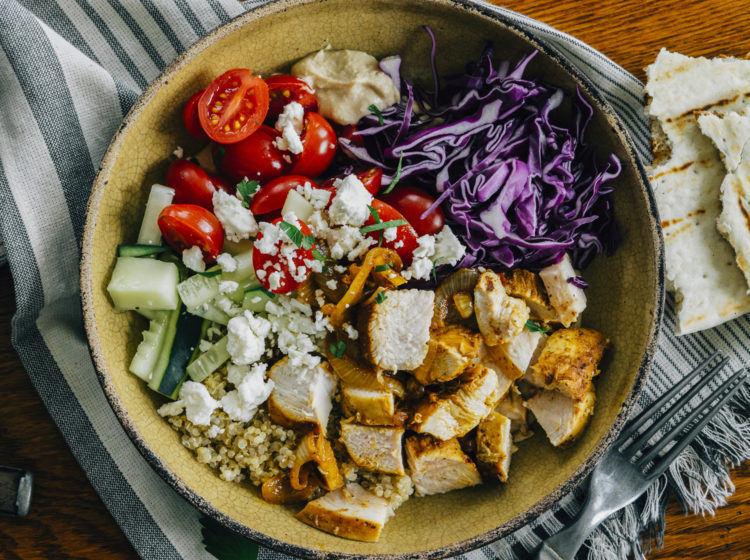 Middle Eastern Chicken Shawarma Bowl with Hummus
Serves: 3
Prep Time: inutes
Cook Time: inutes
Total Time: inutes
Ingredients
1 package Bell & Evans Boneless, Skinless Chicken Breasts, halved
1 tsp smoked paprika
1/4 tsp turmeric
1 tsp ground cumin
1/4 tsp cinnamon
1 tsp pepper
1/2 tsp salt
Juice from 1 lemon
1/4 cup olive oil
2 cloves garlic, minced
1/2 cup onion, thinly sliced
1 cup quinoa, cooked
1 cup traditional hummus
1 cup red cabbage, shredded
3/4 cup cucumber, thinly sliced
3/4 cup grape tomatoes, cut in half
3/4 cup crumbled feta cheese
Pita bread, for serving
Preparation
Remove chicken breasts from package.
For the marinade, in a small bowl, combine paprika, turmeric, cumin, cinnamon, pepper, salt, lemon juice, olive oil and red pepper flakes. Place sliced onions in bowl with chicken. Pour marinade over chicken and onions and toss to coat evenly. Cover and refrigerate for 30 minutes, or up to 4 hours.
Heat grill or grill pan to medium-high and grill chicken, 6 to 7 minutes per side, until internal temperature reaches 165°F. Remove chicken from heat and let rest for 5 minutes. Chop chicken into bite-sized pieces and set aside.
To assemble chicken bowls: Divide quinoa and hummus and place in the bottom of three serving bowls. Top with equal amounts of chicken, cabbage, cucumber, tomatoes and feta cheese. Serve with pita bread. Enjoy!
Featured Product
You may also like