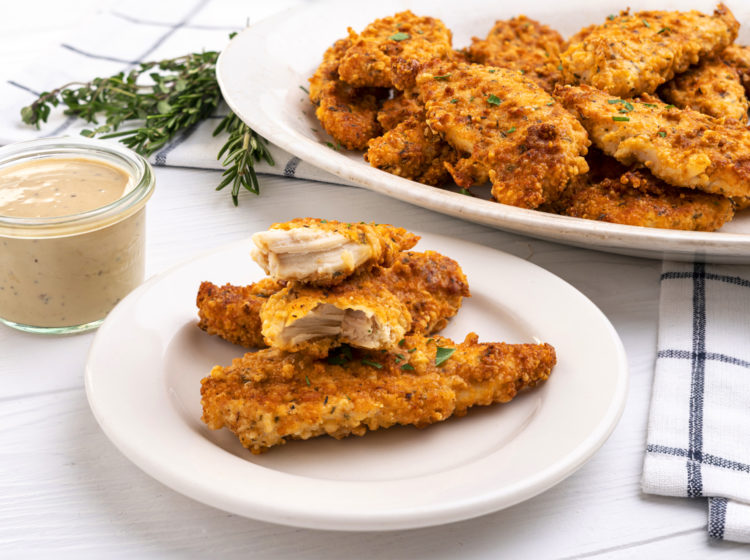 Low-Carb Parmesan Chicken Tenders (Air Fryer)
Serves: 4
Prep Time: inutes
Cook Time: inutes
Total Time: inutes
This recipe for crispy Parmesan chicken tenders is sure to please the whole family. It's quick and easy — and the results are delicious and keto-friendly!
Ingredients
1 Pkg (1.5 pounds) Bell & Evans Boneless, Skinless Chicken Tenders
2 Eggs
2 T water
1 Cup Grated Parmesan cheese
1 tsp Dried oregano
1 tsp Paprika
1/2 tsp Dried thyme
1/2 tsp Dried rosemary
1/2 tsp Garlic salt
Freshly ground pepper, to taste
Canola oil cooking spray
Preparation
Place eggs and water in shallow bowl and whisk to combine.
Make "breading" by placing the Parmesan cheese and spices in another shallow dish that is large enough to dredge the dipped chicken tenders. Whisk together until well combined.
One at a time, dip chicken tenders in egg wash to lightly coat, shake off excess, then dredge the chicken in the Parmesan mix. Toss to coat evenly. Place breaded tenders into air fryer basket. Depending on the size of the basket, you may have to work in batches.
Spray a light coating of canola oil cooking spray over the chicken. Set temperature to 400°F and air fry chicken tenders for 12 minutes. Turn chicken halfway through the cooking time to brown both sides. Cook to 165°F, as measured by a meat thermometer.
Serve hot with your favorite dipping sauce, if desired.
Featured Product
You may also like