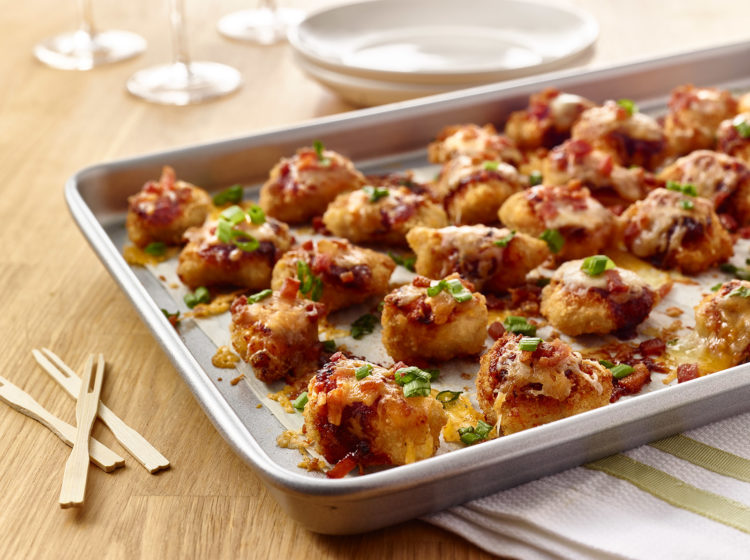 Loaded BBQ & Bacon Breaded Chicken Nugget Appetizer
Serves: 6
Prep Time: inutes
Cook Time: inutes
Total Time: inutes
If you love boneless wings, you'll love this Loaded Chicken Nugget Appetizer.  You'll be the hit of the party!  It is so easy to make, but guests will think you slaved over it for hours.  It features our all breast meat Chicken Nuggets… no fat, no fillers.
Ingredients
1 Jar BBQ sauce
6 oz. Sharp cheddar cheese, shredded
6 oz. Monterey cheese, shredded
½ lb. Bacon, cooked & coarsely chopped
Juice of 1 lime
Salt & pepper, to taste
1 bunch Green onion, thinly sliced for garnish
Ranch dressing, for garnish
Preparation
Preheat the oven to 375°. Spread frozen Nuggets on a baking sheet and bake for a total of 25-30 minutes until golden brown or thoroughly cooked to an internal of 170°F as measured by a meat thermometer.
Top nuggets with BBQ sauce, cheese and bacon. Continue baking for 5 minutes until cheese has melted.
Remove from heat. Season with fresh lime juice, salt and pepper.
Garnish with green onion and a drizzle of ranch dressing.
Featured Product
You may also like