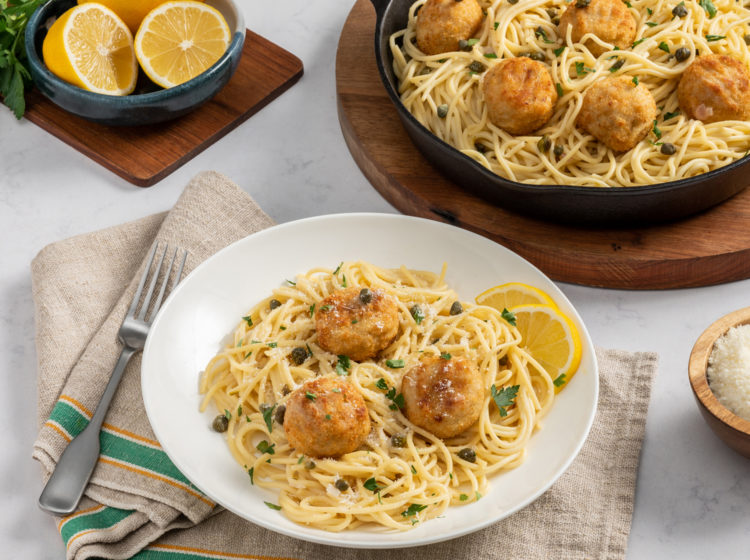 Lemon Chicken Piccata Meatballs
Serves: 6
Prep Time: inutes
Cook Time: inutes
Total Time: inutes
Chicken Piccata is an Italian staple for good reason: The combo of bracing lemon juice, briny capers and creamy butter is unbeatable. In this tasty recipe, these traditional flavors come together effortlessly as a sauce for Bell & Evans Parmesan Breaded Chicken Meatballs, cooked in an air fryer, and served with spaghetti. As a finished dish, each bite introduces fresh flavors, composed in an unexpected way.
Ingredients
2 TB Unsalted butter
1 Shallot, minced
2 TB All-purpose flour
1/2 cup Fresh lemon juice
1 cup Low-sodium chicken broth
1/4 cup Brined capers, drained, rinsed
1/2 tsp Salt
1 lb Spaghetti
1/4 cup Parmesan cheese, finely grated
1/4 cup Fresh parsley, minced
Preparation
Preheat the air fryer to 400°F. Place the frozen chicken meatballs in a single layer in the air fryer. Cook until fully cooked through, or until the internal temperature reaches 165°F, about 11-12 minutes.
Meanwhile, heat the butter in a large skillet over medium heat. Add the shallots and cook until softened, about 1-2 minutes. Stir in the flour and cook, stirring often, about 1 minute. Vigorously whisk in the lemon juice and broth and bring to a simmer. Add the capers and salt. Cook, stirring occasionally, until the sauce thickens slightly, about 5 minutes.
Fill a large pot with water and bring to boil over high heat. Cook the spaghetti according to manufacturer's directions; drain.
Toss the cooked spaghetti in roughly 3/4 cup of sauce to coat. Serve the chicken meatballs over the spaghetti. Pour the remaining sauce over the meatballs and spaghetti, and then garnish with the Parmesan and parsley.
Featured Product
You may also like