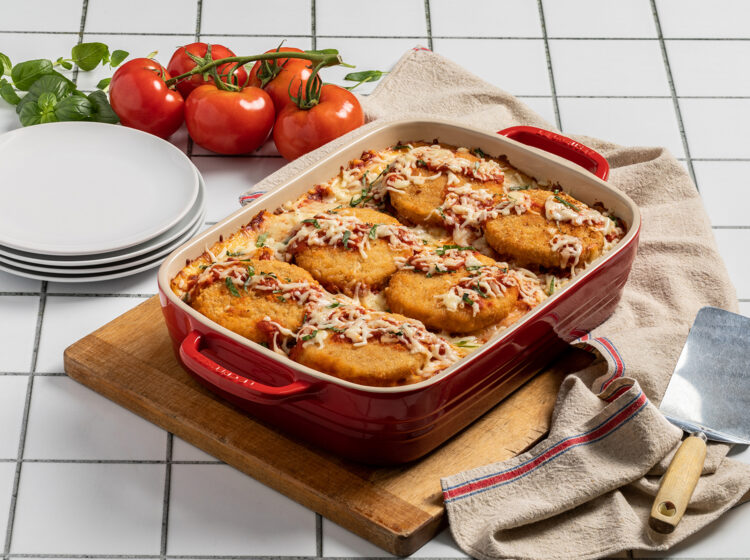 Lazy Chicken Lasagna
Serves: 8
Prep Time: inutes
Cook Time: inutes
Total Time: inutes
Homemade lasagna is a labor of love, but our "lazy" version doesn't take all day! A couple of smart shortcuts, including using broken noodles and Bell & Evans Breaded Chicken Patties, help this cheesy pasta bake come together in a flash.
Ingredients
12 oz Lasagna noodles, broken into 2-inch pieces
1 1/2 cups Fresh ricotta
2 cups Shredded mozzarella cheese, divided
1/2 cup Grated Parmesan cheese
1 (24 oz) jar Tomato sauce
2 TB Fresh basil, chopped
Preparation
Preheat oven to 375°F. Fill a large pot with water and bring to boil over high heat. Cook the lasagna noodles according to manufacturer's directions; drain.
Place patties in an even layer on a rimmed baking sheet. Bake until patties are fully cooked through, or until the internal temperature reaches 165°F, about 25-30 minutes.
Mix ricotta, 1 cup mozzarella and Parmesan together until combined. Fold in cooked lasagna noodles until coated.
Cover bottom of a 9x13-inch baking dish with 1 cup tomato sauce. Top with 8 patties. Layer with half the noodle mixture and 1 cup tomato sauce. Top with remaining noodle mixture, tomato sauce and mozzarella. Top evenly with remaining patties.
Bake until sauce is bubbling and cheese is melted, about 15-20 minutes. Garnish with basil. Let cool for 15 minutes before slicing and serving.
Tip: Feel free to substitute Breaded Chicken Patties for Italian-Style Patties!
Featured Product
You may also like