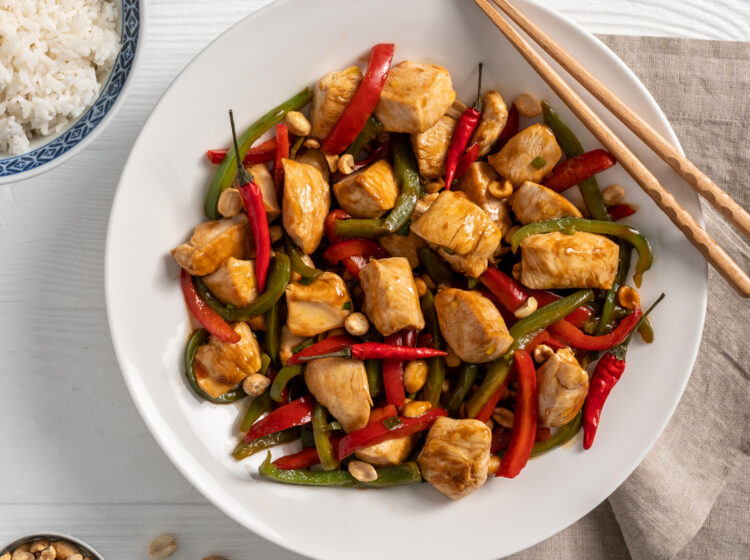 Kung Pao Chicken
Serves: 4
Prep Time: inutes
Cook Time: inutes
Total Time: inutes
Take a break from takeout and try your hand at this fiery Chinese dish! This spicy stir-fry features juicy pieces of Bell & Evans Boneless, Skinless Chicken Breasts mixed with peppers, chiles and scallions, all tossed in a crave-worthy, sticky-sweet sauce! Serve over rice or a batch of stir-fried Asian greens, like bok choy, for a lower-carb option.
Ingredients
1 TB Soy sauce
1 TB Hoisin sauce
1 TB Dry sherry or Mirin
1 TB Distilled white vinegar
2 tsp Cornstarch
1 TB Peanut oil
1 large Green bell pepper, cut into 1/2-inch pieces
6 Dried Thai chilies
2 Green onions, chopped
1/2 cup Roasted peanuts
4 cups Cooked long-grain white rice, for serving
Preparation
Mix soy sauce, hoisin sauce, sherry, vinegar and cornstarch together in small bowl and set aside.
Heat oil in large skillet or wok over medium-high heat until it just begins to smoke. Add chicken and cook, stirring occasionally, until golden-brown, about 2-3 minutes.
Stir in bell peppers, chilies and 1 green onion and cook, stirring often, until tender-crisp, about 2-3 minutes.
Add soy sauce mixture and cook until chicken is fully cooked and sauce thickens, about 3-4 minutes.
Stir in peanuts, and top with remaining green onions. Serve with rice, and enjoy.
Featured Product
You may also like