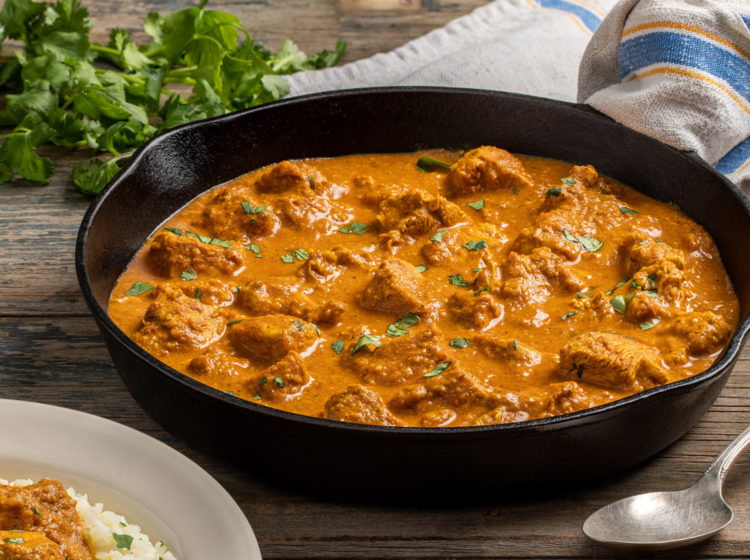 Keto Friendly Chicken Tikka Masala
Serves: 4
Prep Time: inutes
Cook Time: inutes
Total Time: inutes
Yogurt is one of the best ingredients to make our chicken even juicier, as the lactic acids break down and tenderize the meat's proteins. Here, yogurt and homemade curry paste come together in an aromatic marinade for boneless, skinless chicken breast , which is then simmered with coconut milk, tomato paste and herbs to make a creamy tikka masala. Serve this warming curry over cauliflower rice for a keto-friendly meal.
Ingredients
Curry Paste Ingredients
1 Yellow onion, quartered
1 Shallot, halved
6 cloves Garlic
2-inch piece Fresh ginger, peeled and coarsely chopped
3 TB Garam masala
2 tsp Ground turmeric
2 tsp Salt
1 tsp Crushed red pepper flakes
Zest of 1 Lemon
Tikka Masala Ingredients
1/2 Cup Full-fat plain Greek yogurt
14 oz Full-fat unsweetened coconut milk
6 oz Tomato paste
1/4 cup Cilantro, chopped
3 Cups Cooked rice or cauliflower rice, for serving
Preparation
Curry Paste
In a blender or food processor, place the onion, shallot, garlic, ginger, garam masala, turmeric, salt, red pepper flakes, and lemon zest. Pulse until a smooth paste forms, about 1 minute.
Tikka Masala
Combine 2 tablespoons of the curry paste, the chicken, and the yogurt in a resealable container. Massage the mixture into the chicken to cover completely. Marinate at room temperature for 30 minutes or refrigerate several hours or overnight. Extra curry paste can be stored in an airtight container in the refrigerator for 1 month, or frozen for 4 months.
Heat a large, deep skillet over medium heat. Add 1/4-1/2 cup of the curry paste, depending on your taste, and cook until fragrant, about 1 minute. Add chicken, coconut milk, and tomato paste and stir to combine.
Cover and cook until the chicken is cooked through, about 20 minutes. Remove the lid and simmer about 5 minutes longer, until the sauce thickens slightly.
Stir in cilantro. Serve chicken hot over rice or cauliflower rice for a low-carb, Keto-friendly option.
Featured Product
You may also like