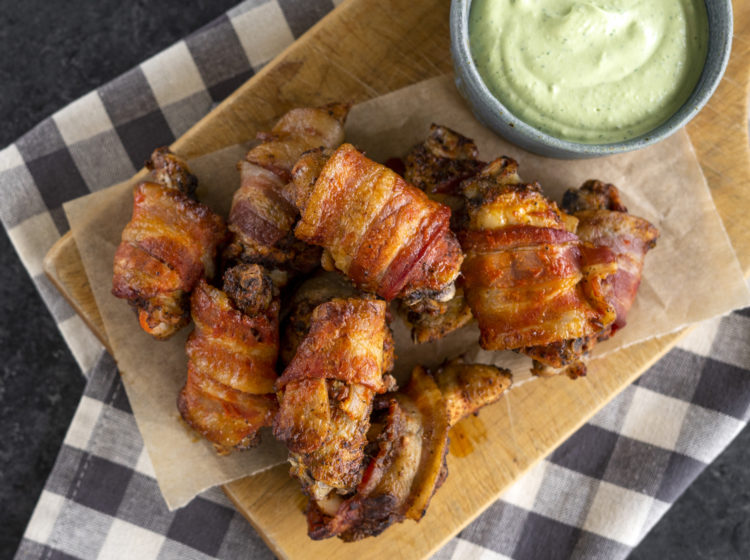 Keto Bacon-wrapped Chicken Wings
Serves: 6
Prep Time: inutes
Cook Time: inutes
Total Time: inutes
It's hard NOT to love Bell & Evans Chicken Wings.  They're small, tender, and flavorful.  But you will not be able to resist making them for every party when they're wrapped in bacon and dipped in our original Avocado Lime sauce.  Spicey!
Ingredients
1 T Kosher salt
1 T Black pepper
1 tsp Paprika
1 tsp Chili powder
1 lb. thick-cut Bacon
1/4 Cup Hot sauce
1 ripe Avocado, pitted
1/4 Cup Mayonnaise
1/4 Cup Sour cream
Juice of half a lime
1/4 Cup Fresh parsley, chopped, plus some for serving
1/2 tsp Kosher salt
1/2 tsp Black pepper
Preparation
Preheat oven to 400°F. Set wire rack in rimmed baking sheet and coat with nonstick cooking spray. Pat wings dry and add to large mixing bowl. Add salt, pepper, paprika and chili powder and toss to coat.
Cut bacon strips in half and wrap each chicken wing with half strip of bacon. Arrange chicken wings on prepared wire rack, ensuring end of bacon is tucked under wing to prevent unraveling.
Brush wings with hot sauce and bake 45 minutes, flipping halfway through, until bacon is crispy and chicken is cooked to internal temperature of 170°F
While wings bake, combine avocado, mayonnaise, sour cream, lime juice, parsley, salt and pepper in bowl of food processor and pulse until smooth and creamy.
Top avocado dip with fresh parsley and serve with wings.
Featured Product
You may also like