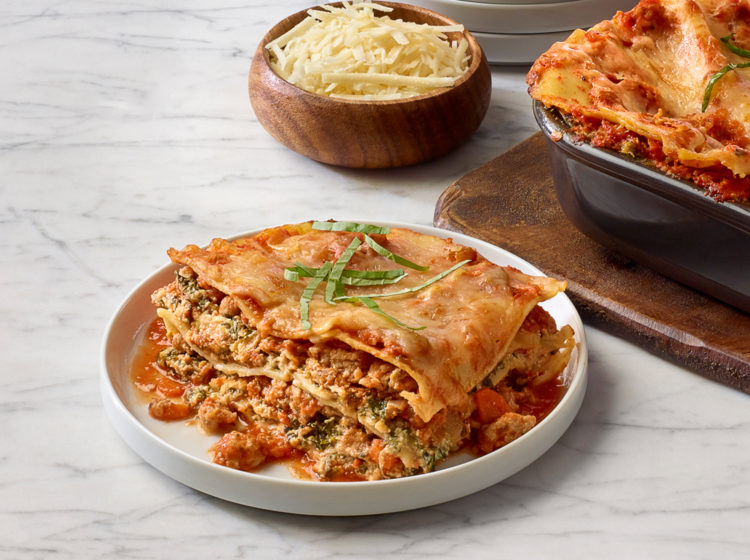 Italian Chicken Bolognese Lasagna
Serves: 8
Prep Time: inutes
Cook Time: inutes
Total Time: inutes
This version of the classic one-pan Italian crowd-pleaser combines Bell & Evans new Ground Chicken Leg Meat, a hearty sauce, vibrant spinach, and rich, creamy cheese blend for flavor that feels as if it's been perfected over generations.
Ingredients
For Bolognese
2 T Olive oil
2 Medium onions, finely diced
2 Medium carrots, finely diced
1 Stalk celery, finely diced
3 Large garlic cloves, minced
1/4 Cup White wine
1 Cup Whole milk
2 28-oz cans Crushed tomatoes in puree
1 Cup Chicken stock
1/4 tsp Ground nutmeg
Salt and pepper, to taste
Three Cheese Filling
1 10-oz pkg Frozen spinach, thawed, squeezed dry, and chopped
1 15-oz container Fresh ricotta
2 Cups (packed) Freshly shredded mozzarella
1/2 Cup Freshly shredded Parmesan
2 Eggs, lightly beaten
½ tsp Salt
½ tsp Freshly ground black pepper
For Assembly
1 1-lb pkg Lasagna noodles, prepared according to package instructions
Additional shredded mozzarella and Parmesan for topping
Preparation
Make the Bolognese
Heat oil in large skillet over medium heat. Add the ground chicken and cook, using a wooden spoon to break the meat into pieces as it browns, about 8 minutes. Add onions, carrots, celery, and garlic and cook, stirring occasionally, until the onion is tender and translucent, about 5 more minutes.
Add wine and bring to a boil, scraping up browned bits from bottom of pan, about 2 minutes. Add milk; bring to a boil, reduce heat, and simmer until liquid is almost completely evaporated, 8–10 minutes
Stir in crushed tomatoes, broth, and nutmeg. Bring to a boil, reduce heat, and simmer, stirring occasionally, until sauce thickens and flavors meld, about 1-1 ½ hours. Season to taste with salt and pepper and remove from heat
Make the Three Cheese Filling
In a large bowl, whisk together spinach, ricotta, mozzarella, Parmesan, eggs, salt, and pepper. Set aside.
Assemble Lasagna
Position rack in center of oven; preheat to 350°F. Oil a 13 x 9 x 2-inch glass baking dish.
Spoon a thin layer of bolognese sauce over bottom of baking dish. Cover with 4 noodles, overlapping slightly. Drop 1/2 of cheese mixture over by tablespoonfuls; spread out. Spread with 1/3 of remaining sauce. Repeat layering with 4 noodles, remaining cheese mixture, and 1/3 of remaining sauce. Top with final layer of noodles and thin layer of sauce. Sprinkle liberally with shredded mozzarella and Parmesan.
Oil one side of a piece of foil large enough to cover baking dish and place over assembled lasagna, oiled side down, to prevent sticking. Tightly cover dish.
Bake lasagna until hot and bubbly, about 50 minutes; uncover and continue baking until top begins to brown, about 10-15 minutes longer. Let lasagna stand 15 minutes before serving. (Can be prepared 1 day ahead. Cool slightly. Cover and refrigerate. Rewarm, covered with foil, in 350°F oven about 45 minutes.)
Featured Product
You may also like