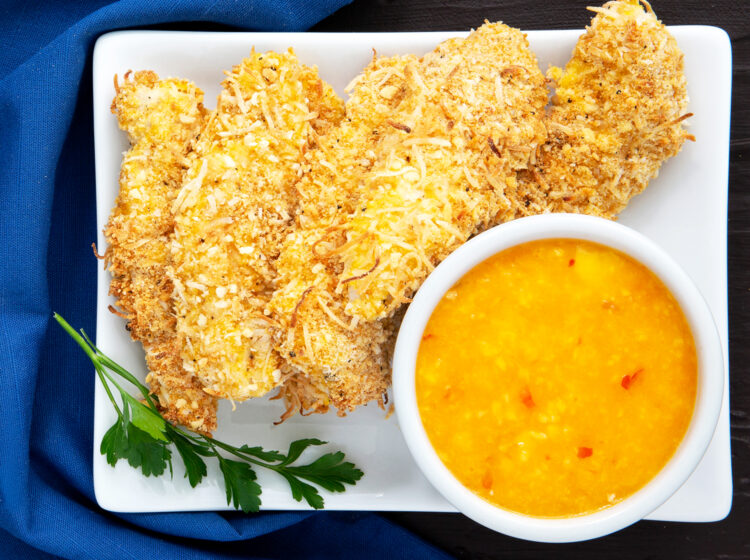 Homemade Coconut Chicken Tenders with Chili Mango Dipping Sauce
Serves: 4
Prep Time: inutes
Cook Time: inutes
Total Time: inutes
Coconut and mango pair beautifully in so many types of dishes, from sweet desserts to savory or spicy main dishes. This Coconut Chicken Tenders with Chili Mango Dipping Sauce is made with Bell & Evans fresh chicken tenders.  The combination of coconut flour, coconut flakes, and panko breadcrumbs create a crispy coating while the mango puree and sweet chili sauce come together to provide a sweet and savory sauce.
Source: Gluten Free & More
Ingredients
1 cup Gluten-free panko breadcrumbs
½ cup Coconut flour
3 Large eggs, lightly beaten
Kosher or fine sea salt
Freshly ground black pepper
1 cup Unsweetened coconut flakes
1 (10 ounce) bag Frozen mango chunks
3 TB Sweet chili sauce
Preparation
Preheat the oven to 400 degrees. Line two baking sheets with parchment, foil, or silicone baking mats. Top with a wire cooling rack and spray with cooking spray.
Heat olive oil in a medium skillet over medium-high heat. Toast the panko crumbs, stirring, until lightly golden brown, about 3 minutes.
Pat the chicken dry. Set up a 3-step breading station in three separate bowls, plates, or pie pans. In one, add the coconut flour. In another, combine the eggs with a pinch of salt and pepper. In the third, combine the toasted panko crumbs with the coconut, 1 teaspoon salt, and ½ teaspoon pepper.
Dip the chicken tenders into the coconut flour first, shaking off any excess, then into the eggs, and finally into the coconut panko mixture, pressing the mixture onto the chicken. Place on prepared baking pans. Spray with cooking spray and bake for 18-20 minutes or until golden brown.
While the tenders bake, make the dipping sauce. Puree the mango chunks and stir in the sweet chili sauce.
Serve the hot tenders with the dipping sauce.
Featured Product
You may also like