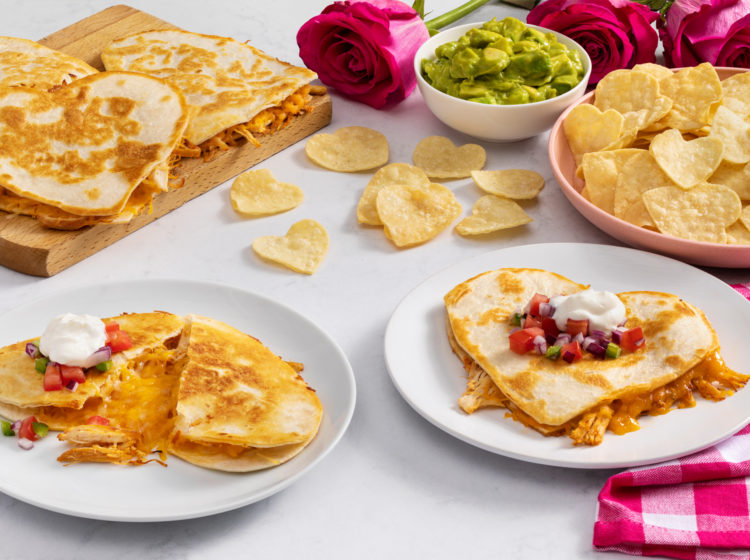 Heart-Shaped Chicken Quesadillas
Serves: 4
Prep Time: inutes
Cook Time: inutes
Total Time: inutes
Bring a smile to your sweetheart's day with charming heart-shaped quesadillas! They'll love the combination of piquant seasoned Slow-Cooker Tamale Chicken or Chicken Carnitas and luscious melty cheese in this quick, satisfying meal.
Ingredients
8 Flour tortillas
1 1//2 cups Shredded cheddar, monterey jack, or Mexican-blend cheese
1 cup Shredded, cooked chicken (or seasoned chicken, like Slow-Cooker Tamale Chicken or Chicken Carnitas)
Fresh salsa, to taste
Sour cream, to taste
Guacamole, to taste
Preparation
Using a large heart-shaped cookie cutter, or a paper template and kitchen shears*, place tortillas on cutting board and cut.
Top 4 heart-shaped tortillas with shredded cheese. Top with shredded chicken and more cheese. Place remaining heart-shaped tortillas on top.
On a nonstick skillet or griddle, cook over medium heat, flipping when each side is lightly browned and cheese is melted.
Serve quesadillas with salsa, sour cream, and/or guacamole.
Featured Product
You may also like