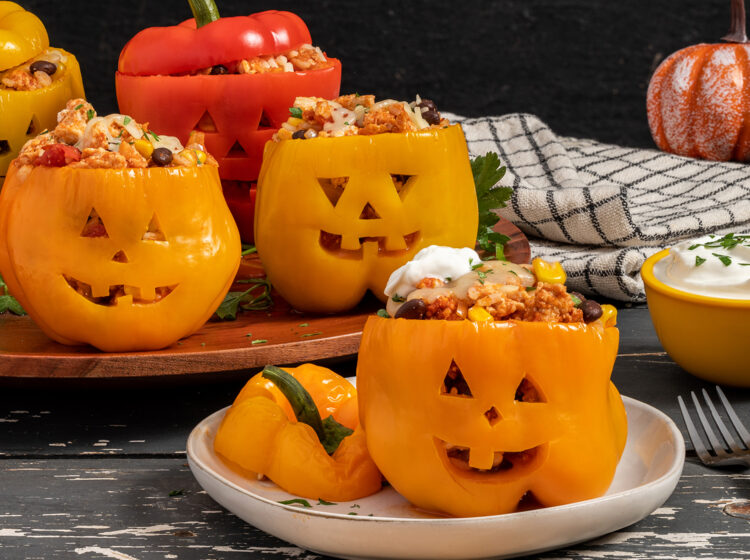 Chicken Stuffed Peppers
Serves: 6
Prep Time: inutes
Cook Time: inutes
Total Time: inutes
Halloween is the one time of year when you want your dinner to get "boo-ed!" Lean into the spooky season with these adorable (and super-tasty) stuffed peppers, filled with perfectly seasoned Bell & Evans Taco Seasoned Ground Chicken and familiar taco ingredients, like black beans and corn. The jack-o-lantern-shaped peppers are then topped with cheese and baked until tender, for a creative meal the whole family will love. When Halloween is over, they make a delicious meal the whole family will love… and you can still make the pumpkin faces.  They're fun!
Ingredients
6 large Mixed-color bell peppers, tops removed and seeded
Salt and black pepper, to taste
1 TB Olive oil
1 medium Yellow onion, chopped
2 TB Tomato paste
3 Cloves Garlic, minced
1 tsp Chili powder
1 tsp Ground coriander
1/2 tsp Paprika
1 (15-oz) can Black beans, rinsed and drained
1 (14.5-oz) can Diced tomatoes
1 cup Corn kernels, fresh or frozen
1 cup Cooked long-grain white rice
1 cup Shredded Monterey Jack cheese
2 TB Chopped fresh parsley
Preparation
Using a sharp paring knife, carve a Jack O'Lantern face into the side of each pepper. Season the inside of each bell pepper with salt and pepper. Set aside for filling.
Preheat oven to 400°F. Heat oil in a large skillet over medium-high heat. Add onion and cook, stirring occasionally, until tender, about 3-5 minutes. Add ground chicken and sauté, breaking up into small crumbles with a wooden spoon as it cooks. Cook for about 8 minutes, until chicken is cooked through and begins to brown.
Stir in tomato paste, garlic, chili powder, coriander and paprika, and cook until fragrant, about 1 minute. Remove from heat. Stir in black beans, tomatoes, corn and rice until combined.
Place peppers, cut-side-up, in a 9x13-inch baking dish. Spoon chicken mixture into each pepper and top with cheese. Cover baking dish with aluminum foil. Bake until peppers are tender, about 25-30 minutes. Uncover and continue to bake until cheese is bubbling and light golden-brown, about 10 minutes. Top with parsley and serve.
Featured Product
You may also like