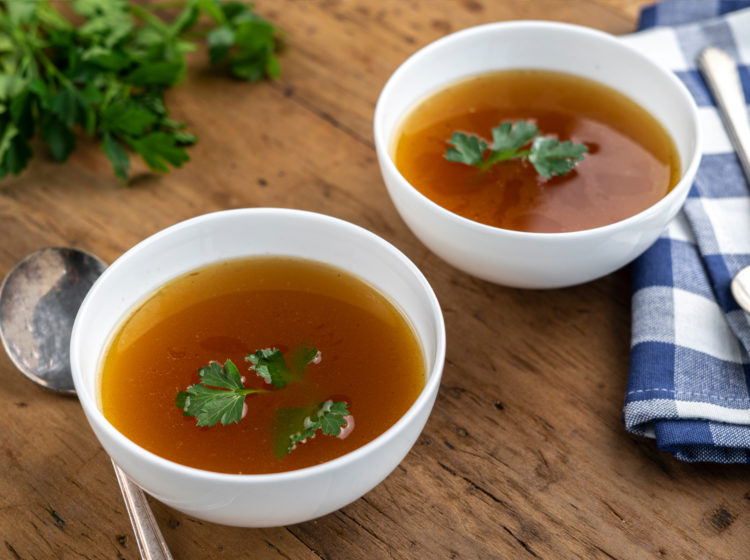 Gut Healthy Chicken Bone Broth
Serves: 10
Prep Time: inutes
Cook Time: inutes
Total Time: inutes
Making bone broth with leftover roasted chicken bones is easier than you may think. The numerous bone broth benefits include collagen, which helps heal the gut lining, strengthens bones, teeth, nails and hair, and reduces joint pain and inflammation. The nutrients in bone broth boost our immune system, and aid in addressing allergies,  asthma and arthritis.
Ingredients
1 Bell & Evans Roasted Chicken, bones only (meat stripped off)
4 Stalks Celery
2 Medium Carrots (rough chopped)
1 Medium Onion (peeled and quartered)
3 Cloves Garlic, smashed
1 tsp Salt
½ tsp Pepper
12 - 16 Cups Water
Preparation
Preheat oven to 450° F. Spread out bones and vegetables on a large sheet pan.
Roast for about 15-20 minutes or until bones and veggies have a nice brown roasted color.
Add bones and vegetables to a stock pot or crock pot. If you are using a crockpot, add 12 - 16 cups of water and cook on low setting for 24 hours. If you are using a stockpot, add 16 cups of water, bring to a boil and simmer, covered, for about 12 hours.
Once broth is cooled, strain out bones and vegetables.
Pour broth into mason jars or other containers and cool completely before storing in refrigerator or freezer.
Note: If bone broth has been stored in an unopened airtight container, it can last for one week in the fridge. It will last 3 - 4 days if being opened and used daily, because of exposure to oxygen. To extend the life of your bone broth supply, freeze it in mason jars (with room at the top).
Featured Product
You may also like